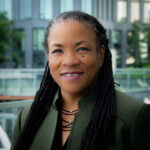 Stacey Hardy-Chandler, Ph.D., J.D., LCSW
Chief Executive Officer, ASWB
My first anniversary as ASWB's CEO is an opportunity for deep reflection. While I am looking back on a year unprecedented in ASWB's history — and the social work profession's history — I  am also focused on the future of social work regulation.
Regulators across all professions are entrusted by the public to exercise certain core duties:
Verify the competence of those to whom licenses/registrations are issued
Determine and enforce the standards for professional practice
Address the public's concerns when questions of incompetent or unethical practice arise
The thread running through those mandates is accountability for how we protect the public.
Last year, ASWB took steps into uncharted territory by becoming the first health or human services regulatory association to publish an extensive exam pass rate analysis. The disparate outcomes in the pass rate analysis illustrate systemic issues embedded throughout our society. Since the publication of this data, I have often thought of the James Baldwin quote: "Not everything that is faced can be changed, but nothing can be changed until it is faced." We have faced these disparities; now it is time for all sectors of the social work profession to work together to mitigate their impact on social workers entering practice. We are all accountable to the communities, clients, and colleagues we serve. For us to live our social work and regulatory values, standing still is not an option.
Over the past year, ASWB has worked hand in hand with researchers, testing experts, peer organizations, and, most importantly, social work professionals to ensure that the future of social work licensure is grounded in real-world practice and inclusion. Alongside FifthTheory, we have piloted a free program designed to help candidates who are unsuccessful on the exam get individualized feedback on their test-taking mindset. We have also commissioned qualitative research into social workers' personal experiences through the licensing process. We are excited to share our findings from those community conversations and other emerging information with all of you in the coming months.
The journey isn't over
I joined ASWB near the start of this journey. A year later, several mile markers are behind us and many others are still ahead. We invite members of the social work community to join us on this path. ASWB and its member regulatory bodies cannot solve the issues facing our profession alone. The systemic problems call for systemic and collaborative solutions. This is what led to our decision to solicit proposals for research on social work regulatory best practices. It is why we have convened a coalition of social work organizations across the United States and Canada committed to launching the Social Work Census in 2024, allowing all of the sectors represented by the coalition's members to learn as much as possible about who today's social workers are and what they do in their practice.
As I asserted at ASWB's 2022 annual meeting, we can go so much further together than we can alone. Social work regulation is moving forward. We invite you to join us along the way.