ASWB Examination Guidebook
The ASWB Examination Guidebook contains information on the steps for taking the exam, what to expect on exam day, exam creation, and question structure.
This guidebook includes:
Study plan template
Reference lists created with input from social work educators
Complete content outlines for all exam categories, including KSA (knowledge, skills, and abilities) statements
Sample screens from exam software
Sample questions from each exam category with the correct answer and explanation
If you registered before November 1, 2023, and plan on taking the exam before December 16, 2023, download the edition for Pearson VUE test-takers:
If you registered November 1 or later and plan on taking the exam after January 1, 2024, download the edition for PSI test-takers:
Download the guidebook for testing after January 1, 2024
Updated November 9, 2023.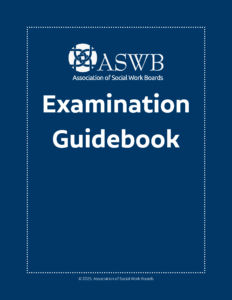 With questions previously used on the licensing exams, the online practice test is a valuable tool for preparing to take your exam. We recommend using it alongside the ASWB Examination Guidebook, a free download.