Message from the CEO
Adapted from ASWB CEO Stacey Hardy-Chandler's remarks at the 2022 Annual Meeting of the Delegate Assembly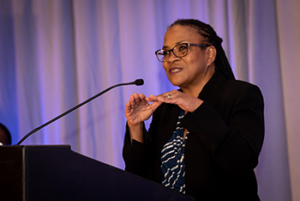 I am a proud social worker—that's at the core of who I am. I think like a social worker, I relate like a social worker, and I lead like a social worker. Who I am, standing before you, is because of the gifts given to me by clients and colleagues over the course of my time in the profession.
And now my path has merged with ASWB's, at the intersection of options and opportunity. That's why I took this job. I applied for this position in large part because of the Board of Directors' decision to publish the exam data. I saw an opportunity to contribute to social justice, and I wanted to be a part of it.
Because I am who I am, I bring to this position an ubuntu sort of philosophy. Ubuntu is a Zulu word, usually translated "I am, only because you are." Ubuntu prompts us to look in the mirror before engaging in destructive otherizing. It's about inclusion, interdependence, and the responsibilities we have to one another.
That responsibility belongs in conversations about regulation. We are, together, on a justice journey, leading opportunities to advance equity in professional regulation. We, as regulators, want to have fair and just paths to licensure—that is something that benefits everyone. This effort calls for us to trust one another, to rely on one another, to elicit the aid of our allies, and to think differently and innovatively about how we make progress.
When you do something truly groundbreaking—like publishing ten years of disaggregated exam data—that means the terrain is going to be uneven. It's going to be rough for a while, and we're certainly experiencing that. But this is not the end—it's the beginning of the next phase of our journey. And options and opportunities have been unearthed by these decisions.
If you want to go fast, go alone. If you want to go far, go together.
Our call to action in August included an invitation to prospective partners across the profession. Our exam data reflects the longstanding effects of racism, oppression, and marginalization. Those systemic problems require systemic solutions. We're more than willing to do our part in addressing the gaps in pass rates, but ASWB alone does not have the power to heal racism in North America.
When someone shows you who they are, believe them the first time.
Many social work educators have come to us and said, "I teach, and I want to be a part of answering those questions that have been raised. I want to be a part of the research. I want to be a part of the movement." Or they've said, "We recognize that we haven't talked about licensure before. I want to talk to my students about licensure and what that means in terms of public protection."
Some practitioners have seen this data and said, "I work with a lot of historically marginalized people who are going to be candidates for the exam. I'm rethinking how I can be more intentional in supporting them and their demonstration of competency on the exam."
I see those people. They're showing us who they are, and I believe them.
There are regulators who are taking this information to their decision makers and saying, "This is why we need to reallocate funds in a different way." Regulators who are doing this: I see you and I believe you the first time. I think we need to pay attention to those who are showing us who they are. We want to welcome them, and we want to work with them. ASWB will lead the collaboration necessary to respond to the complex factors that have led to where we are, but we are not on this journey alone.
As we approach the end of this groundbreaking year, I want to highlight some of the association's accomplishments.
The Board of Directors appointed a new Diversity, Equity, Inclusion, and Justice Committee, who are hitting the ground running, joining our other high-performing committees.
We have announced an upcoming request for proposals for examination and regulatory research and are looking forward to getting some of the answers to the questions raised by the exam data.
We are extending our outreach and education, providing accurate information about ASWB and the exam development process because we know we must counter a lot of misinformation and disinformation. Thanks to online meetings, we've been able to virtually attend and present at multiple member jurisdiction meetings since August, and we recently offered a webinar to educators that drew an audience of more than 500 attendees.
ASWB has worked extensively with the Council of State Governments to develop an interstate compact that we anticipate will be ready in the first quarter of 2023.
In the first three quarters of 2022, ASWB administered 49,863 examinations, which is back to pre-pandemic levels.
We're also working to enhance our operational infrastructure, including expanded information systems that will facilitate some of the new initiatives we're developing.
In gratitude
As you get to know me, you might notice that I often end my communications with "In gratitude," and this time of year—just before Thanksgiving for those of us in the United States—is a natural time for ASWB to focus on gratitude for those who are joining us on this journey—around our table, so to speak.
So who's invited to this table? Well, if you want to take a stand for professional standards, pull up a chair. If you believe in solutions and substance over suppositions and suspicion, pass your plate. We'll fill it up. If you think finger-pointing gets in the way of joining hands and finding solutions, loosen your belt or put on your stretchy pants. If you're ready for curiosity to replace conjecture, save room for dessert! There's a place for you at our table and all of us need to be fueled up for the journey ahead.