Exam materials for faculty
Helping students better understand the licensing exams can reduce their anxiety about the experience. By reviewing test questions together, educators and students can explore rationales and engage in critical thinking.
Candidate Handbook
The ASWB Exam Candidate Handbook helps test-takers with the process of registering for and scheduling the social work licensing exams.
Download the Handbook
Practice analysis summary
The analysis of the practice of social work is a survey of social workers that ensures that the content of each exam is relevant to current professional practice.
Download the practice analysis summary
Group Review Practice Test
Each practice test contains 50 sample questions, answers, and rationales
Compatible with synchronous and asynchronous online learning
Responsive software works across devices, suitable for screen sharing
Six months of access for all social work faculty at your institution
Learn more about the group review practice test
---
2020 Pass/fail summary reports

ASWB is providing 2020 pass/fail summary reports at no charge to social work degree programs accredited by or in candidacy with CSWE or CASWE.
---
---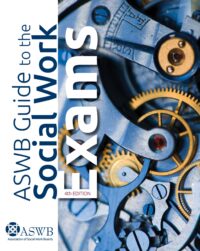 ASWB Guide to the Social Work Exams
In-depth look at how the exams are put together
The methodology and logic of test development
Tips on how you can reduce anxiety
Guidance on developing a customized study plan
Content outlines and suggested references for all exam categories
---
School pass/fail summary reports

ASWB is able to provide pass/fail reports on graduates of individual schools of social work who have taken the ASWB licensing exams.