Meeting regulatory challenges with information
David Benton, CEO of the National Council of State Nursing Boards, took to the podium at ASWB's 2019 Education Conference with a message for social work regulators: Pressure to deregulate is happening in all professions, and the strongest leverage regulators have is data. "In God we trust," he said. "Everyone else has to bring data."
The agendas that we are facing, although we come from different disciplines, are very similar," Benton said. "I would encourage you to work collaboratively across jurisdictions, whether you be in the United States or Canada, but also think about how you might actually draw from related disciplines as well."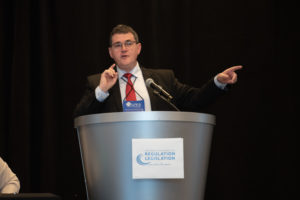 Benton pointed out that challenges to professional licensing are often backed by outdated research, but regulators don't have a deep trove of data to demonstrate the importance of professional regulation. Benton, along with colleagues in other regulatory associations, published a bibliometric analysis of scholarship on occupational licensure in a 2018 issue of the Journal of Nursing Regulation. The team's meta-analysis looked at cross citations in literature on professional regulation. "By looking at those connections and how they evolve over time, we can start to identify what are the general themes that are there and how are they changing and where are they changing," Benton said.
What they found in that analysis is that research into professional regulation is sparse, with only a few publications, some dating as far back as 1978, addressing the questions regulators are interested in. Most of the research approaches regulation from an economics and labor market perspective, which doesn't address the public safety value of regulation.
"While these issues may be the same, the solutions that we use—because our client groups are different—may also have to be different," he said. "So, it's not a case of one size fits all, but we do have to have the evidence to actually support our decision-making."
Benton highlighted Regulation 2030, a supplement to NCSBN's Journal of Nursing Regulation, as a starting point for prioritizing the research that is still needed. That project resulted in 25 major trends described in regulatory literature, divided into seven general themes:
Governance
Purpose of processes
Licensees and registrants
Workforce issues
Education
Fitness for practice
Technology and information
"As nurse regulators," Benton said, "we're not going to be able to do this on our own. We're no longer the sole guardian of public protection. We are part of an orchestra. We have to collaborate with others, both within our discipline and across disciplines."
That collaboration, Benton noted, can mirror the way multidisciplinary teams collaborate in providing services: developing a treatment plan to suit the patient, determining who is responsible for what aspects of care, and establishing accountability for team members. The Regulation 2030 project also identified key skills that regulators will need in the future as they adapt a regulatory system "developed in the industrial era" to work in "a complex, dynamic, digital society."
How can regulators improve communication with the public? How can a board address change management or quality improvement? How can regulators harness data and analyze it to answer the questions they face? No individual board—or even profession—can address all these changes effectively. "It's important," said Benton, "that we as regulators identify the challenges that we face and that we address them before they can be used by the media and by politicians to beat us over the head."
Though some legislators and think tanks may believe that occupational and professional regulation reflects anticompetitive goals and government overreach, Benton pointed out that regulators are held to account by existing structures. "The problem is often that these tools that are used are on the governor's website or in a drawer somewhere and we don't use them as a means of demonstrating our accountability."
Benton pointed out that sunrise and sunset reviews can be a tool for keeping regulators accountable, but they are used inconsistently across states and disciplines. This reality gives regulatory boards limited options in learning from their peers in other professions and gaining insights about how to measure regulatory effectiveness.
Economic research on licensing focuses on economic impact, barriers to entry in the professions, issues around scope of practice, required education, and adverse effects on minority groups. But Benton said that regulators need to find ways to quantify the benefits of regulation for public safety so that they can respond effectively to these challenges. "We just remain silent and say, 'Well, we know that it's important to regulate nurses and social workers because we do such a great job in protecting the public.' … We've actually got to start contributing to the literature."
"It's not just research for the sake of research," Benton said. "It's research for the opportunity to learn from one another. … If we are going to lead and set the framework for public protection, then as regulators we need to generate the evidence, work in collaboration, and be really clear about the priorities."
Benton closed by offering encouragement to social work regulators. "The reality is that at our very most vulnerable times, when we are not able to make decisions for ourselves, that's when regulation makes the real difference and that's why all of you in this room are doing such an important job. You are the guardians of those people that are not able to look after themselves."