Examination Development update: 2020 brings new projects and experienced staff
Despite challenges related to the COVID-19 pandemic that have caused all Examination Committee meetings to be convened virtually, ASWB's Examination Development department has continued to increase its productivity and tackle new projects during 2020.
Building on successes in 2019—which included training 25 new item writers and facilitating committee approval of 43 percent more items than the previous year—the department has new initiatives for ensuring item quality. To accomplish these tasks and help with ongoing work, ASWB recently hired three social workers with long experience in exam development.
"The expertise Keeva, Stacey, and Carl bring to ASWB will be invaluable as we continue to process more exam items and as we move into our other program initiatives." —Lavina Harless, Senior Director of Examination Services
Item bank inventory project
ASWB's item development consultants are working to ensure that all items in its database of in-development items meet current ASWB standards. The consultants are periodically assigned batches of items to review and determine whether each item should be rejected, edited, approved, or moved to a different exam category. By the end of the year, the consultants will have reviewed about 7,700 items. "This project is important," says Lavina Harless, senior director of examination services, "because we are committed to making the ASWB item banks as robust as they can be."
Item writer refresher training
Item development consultants and ASWB staff are creating an online refresher course for the exam program's 67 veteran item writers. "The social work profession changes with the times," says Harless. "We are continuously improving our practices to ensure every scored item on our exams is aligned with current standards."
The refresher course was built using the Blackboard learning management system and includes modules on topics such as person-first language; word choice; matching items to KSA statements; and using references to make sure each item is grounded in social work knowledge. Each module has an introductory video from one of the item development consultants, a slide show, and a quiz. The course is currently being pilot tested; it officially launches in October.
Staff additions
Three social workers recently joined the Examination Development team. Keeva Hartley-Stouffer, LCISW, serves as an item development consultant working from her home in Minnesota. Stacey Owens, LCSWC, of Maryland also joins as a remote item development consultant. And Carl Hokanson, LGSW, is relocating from Minnesota to Culpeper, Virginia, to join the ASWB staff.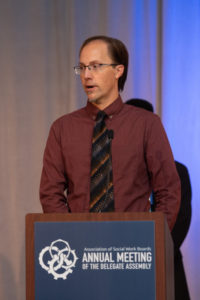 Hokanson began working remotely in early August as ASWB's examination development manager. He plans to join the staff in person in October. "The great thing about bringing Carl on board as a staff member is that he has been working with our program for more 13 years," Harless says. "He has served in various roles, including as an item writer, Exam Committee member, Bachelors exam co-chair, and form reviewer, so he is well versed and committed to the program." Hokanson's previous experience includes managing the social work department at a medical rehabilitation center in St. Paul, where he also provided services and supervised BSW interns.
Hokanson is enthusiastic about getting involved with the association in a new way. "ASWB has created a respected, well-run exam program while having a lot of fun in the process," Carl says. "I am looking forward to getting to know ASWB in more depth beyond the exam program." And what he calls the "more temperate winters" are another bonus of making the move south.
Hartley-Stouffer will work with the Masters exam as an item development consultant. "We have a team of item development consultants who work remotely with the exam program and item writers," Harless says. "Keeva will fill the position formerly held by Nancy Sidell. Nancy will fill a new consultant position added to meet the needs caused by the growth and expansion the program has experienced and will continue to experience in the future." Hartley-Stouffer has been involved in exam development for more than a decade, serving as an item writer, committee member, and committee co-chair. She provides services in Bloomington, Minnesota, as an independent practitioner and has more than 15 years of clinical experience. "I have always prided myself on being a social worker," Hartley-Stouffer says. "I get to help and support my clients on their healing journey, and now I get to effect change in a different way by becoming a consultant with ASWB."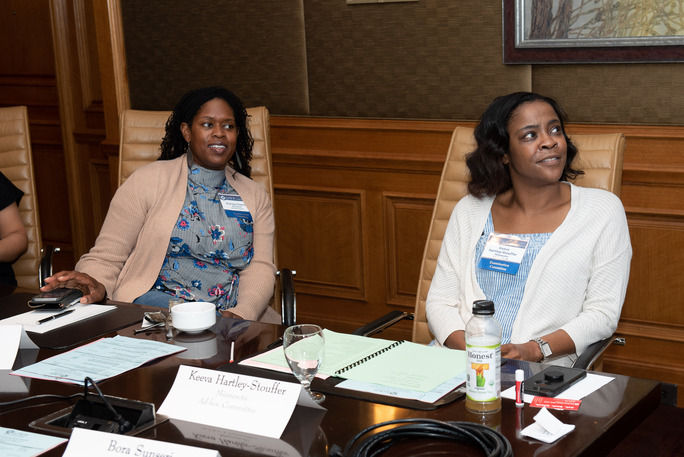 Owens is serving alongside Amanda Duffy Randall as an item development consultant for the Bachelors exam. She has volunteered with ASWB in many of the same capacities as Hokanson and Hartley-Stouffer have, working as an item writer, Examination Committee member, form reviewer, and co-chair for the Bachelors exam. She currently works for the Substance Abuse and Mental Health Services Administration, and her previous experience is with the U.S. Army and the U.S. Department of Veterans Affairs. Owens connects her decision to become an ASWB consultant to the challenges our society is facing. "We are living in a time when competence, integrity, importance of human relationships, and dignity and worth of all people are most needed," she says. "I look forward to supporting ASWB in advancing these essential values of our profession."
Expertise for the future
"The expertise Keeva, Stacey, and Carl bring to ASWB will be invaluable as we continue to process more exam items and as we move into our other program initiatives," Harless says. "All three have been involved in every facet of the examination development process." ASWB welcomes the energy and knowledge of these three subject matter experts.