Online Practice Tests for Bachelors, Masters and Clinical exams

The Association of Social Work Boards offers full-scale online practice tests for candidates registered to take the Bachelors, Masters, or Clinical ASWB licensure examinations. There is no online practice test for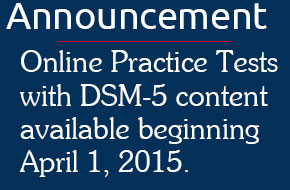 Learn more... the Advanced Generalist examination.
A new version of the ASWB practice tests for the Bachelors, Masters, and Clinical exams with DSM-5 content will be released and available for purchase April 1, 2015. The actual examinations will include DSM-5 content beginning July 1, 2015. This updated version of the practice tests also includes a Zoom feature, which allows candidates to select from preset zoom levels in order to display a magnified view of the screen.
After candidates register and pay the examination fee for the licensing examination, they may choose to purchase access to an online practice test.
The practice tests are delivered via the Internet only—no CD-ROMs, books, or other delivery methods are available. You may purchase access to a practice test at the time you register for the exam or after you have registered at 888.579.3926, or by clicking the button to order products on our home page.
Technical limitations:
For best results, access an online practice test with Firefox or Internet Explorer 8 or 9. The software will not work properly via mobile broadband access. Cable broadband, DSL, and dial-up connections are best, and WiFi networks are generally not a problem.