Council of State Governments kicks off social work licensing compact project with informational session
Social work, dentistry and dental hygiene, massage therapy, K–12 teaching, and cosmetology and barbering were selected this year by the Council of State Governments and the U.S. Department of Defense for developing interstate compacts for licensing portability. The process kicked off with a series of online meetings in May, one for each profession.
"These compacts are built to last," said Dan Logsdon, director of the National Center for Interstate Compacts at the Council of State Governments, "but they do take time." Logsdon and his team will be shepherding social work and the four other professions through the compact development process beginning this year. ASWB staff and volunteers will be involved through every step of the process.
The May 20 kickoff meeting for social work drew about 500 attendees, reflecting the need for license portability within the field. Participants heard from leaders in the profession, including ASWB CEO Dwight Hymans, NASW CEO Angelo McClain, and Kendra Roberson, president of the Clinical Social Work Association.
Anne Kramer, a social worker and military spouse who will soon be moving from Hawaii to Virginia, also shared her story of getting her next license as part of the upcoming move—all while she is looking for employment. "It's probably very similar to many stories you've hear from military spouses," Kramer said.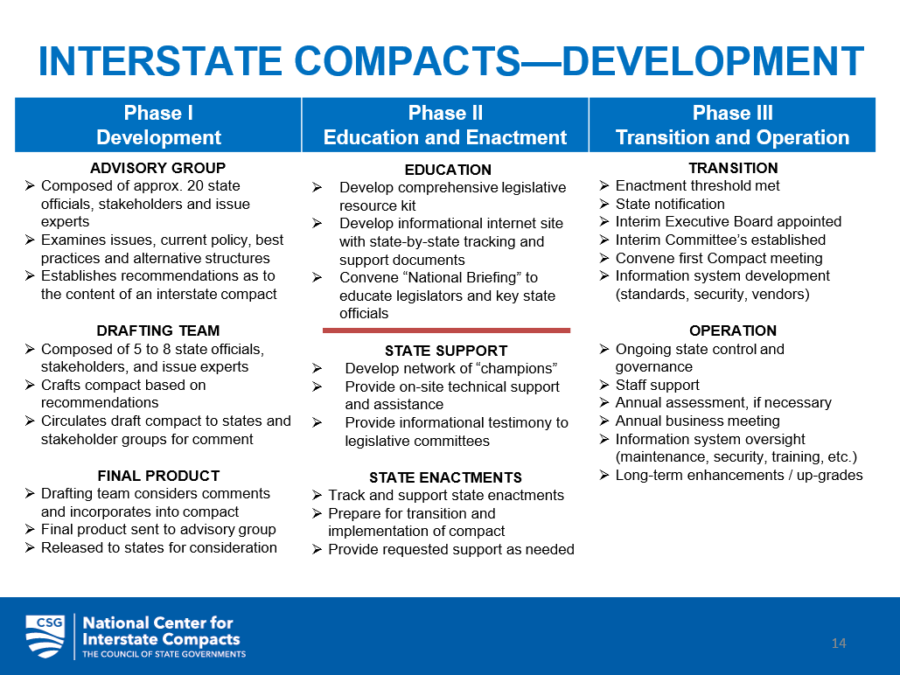 The next step for the social work compact will be convening a technical advisory group that will examine the key issues and make recommendations for the compact structure and policies. Social work regulators—including administrative staff, regulatory attorneys, and volunteer board members—will make up the majority of the advisory group, rounded out by representatives from NASW, CSWA, and CSWE, along with state legislators. "You've got to have a good mix on the project team and diverse perspectives" said Logsdon. "It comes together mostly by consensus."
The social work advisory group will meet in the fall of 2021 to begin its work. Following the work of the advisory group, a team of specialists will draft the compact language in early 2022. A stakeholder review process is next, to be completed before the compact is put before the advisory group one last time.
Once the compact has been drafted and approved by the advisory group, it will be presented to state legislatures for adoption. The development process, Logsdon said, can take as little as 16 to 20 months, but the adoption and enactment process adds time, requiring at least two legislative cycles before the compact is enacted. Then there is ongoing work for more widespread adoption.
Logsdon said that adoption by 10 states is enough to get a compact started, but no profession has a compact that covers the entire country. Nursing has the most participating states with 35. Physical therapy and medicine are not far behind. Licensing compacts can "protect state authority to regulate, while letting practitioners come in," Logsdon said. "Compacts thrive on uniformity," and trust among the states is a key component as well.
"We are in good hands [with CSG]," said Jennifer Henkel, senior director of member engagement and regulatory services. "The folks at CSG are really the interstate compact experts, so we have the right guidance."