ASWB holds first in-person meetings since pandemic began
In July, ASWB committees met in person for the first time since the beginning of the coronavirus pandemic some 15 months earlier.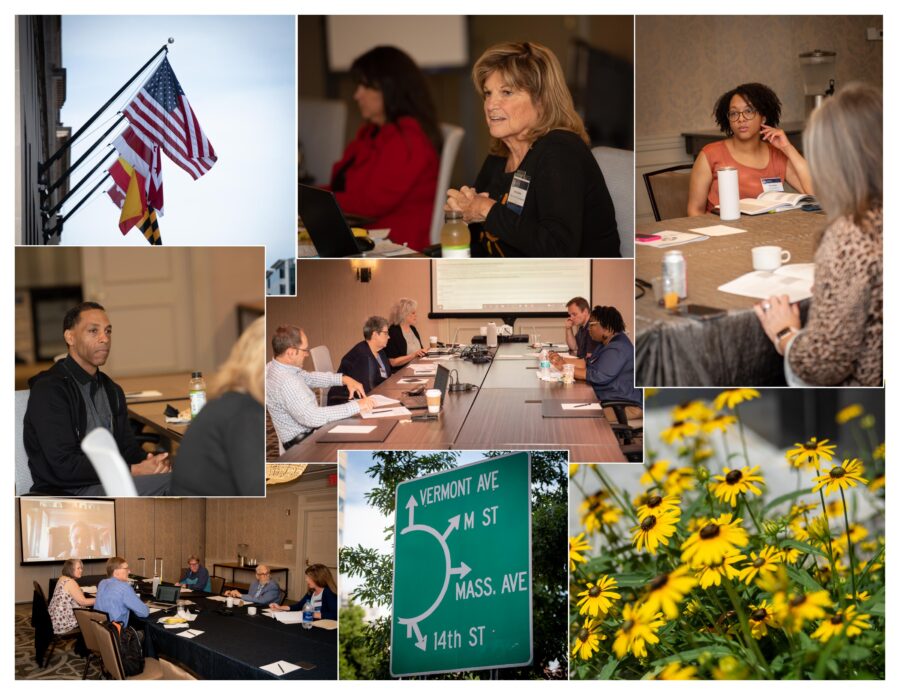 Volunteers and ASWB staff were equally excited about the opportunity to meet in person. Not all volunteers were able to travel—the Canadian border remained closed until mid-August—and some chose not to travel for other reasons. With a Zoom option for remote participation, all committees had full attendance whether in person or virtually.
Nominating Committee
The Nominating Committee completed selection of a slate of candidates for open positions on the Board of Directors and its own committee to be voted on at the 2021 Annual Meeting of the Delegate Assembly. The slate will be announced to membership in October. Committee members: Chair Endsley Real of Georgia, Kenya Anderson of Tennessee, Sonia Bilkhu of British Columbia, Spencer Blalock of Mississippi, and Stephan Viehweg of Indiana.
Bylaws and Resolutions Committee
In 2021, the committee was charged with continuing to evaluate membership via bylaws, policies, and member contracts related to exam use. The committee offered recommendations to the Board of Directors related to next steps for assisting member boards that remain out of compliance with exam use policy after the June 30 deadline. In addition, the committee submitted Resolution 1-2021, The Resolution to Jump Start All Resolutions, which delegates will vote on at the annual meeting. The Board of Directors has provided a Do Pass recommendation. The committee put forward the resolution because committee members believe it is important for membership to be engaged in the governance of ASWB. Committee members: Chair Vikki Erickson of Nevada, Cheney Cloke of British Columbia, Jacqueline Lowe of South Carolina, John Shalett of Louisiana, and Kate Zacher-Pate of Minnesota. Board liaison: Kathy Outland.
REAL Committee
The REAL Committee for the 2021 education meeting met in May to review the evaluations and prepare recommendations for the new REAL Committee. In July, the committee planning the 2022 education meeting generated ideas for skills labs throughout the two days of the next education meeting and began identifying speakers and panelists. The committee will meet monthly throughout the remainder of the year. Committee members: Chair Anne Adcock of Kentucky, Betty Guhman of Arkansas, Claude Savoie of New Brunswick, Mary Weaver of Minnesota, Scott Wilkes of Ohio, and Tobi Zavala of Arizona. Board liaison: Ann-Marie Buchanan.
Regulation and Standards Committee
In 2021, the RAS Committee charge and focus was to evaluate ASWB materials with consideration for an anti-oppressive lens and to develop a plan for a comprehensive review of the model law. The committee's work was primarily informed by the events of 2020 and ongoing social justice movements. In addition to the in-person meeting in July, the committee met virtually through the spring on these charges. They evaluated the model law individually and collectively, considering content through a DEI lens. They also looked at emergency practice provision language, content related to electronic practice, endorsement provisions (thinking ahead to development of compacts), and emerging trends in social work practice. Recommendations include developing and implementing a model law survey in September and holding focus groups to discuss themes highlighted by the committee and survey results at the November Administrators Forum and Board Member Exchange.
The committee also is charged with monitoring policies related to ASWB's Public Protection Database and encouraging member participation in PPD. The committee plans to provide an overview of PPD at the annual meeting. A related 2021 charge was to review updates of NPDB reporting codes. The committee has the laws and regulations database as a third overarching area of responsibility, and its third 2021 charge was to develop procedures for maintaining the data integrity of the database. One recommendation is for staff to provide a demonstration of both the laws and regs database and the legislative and regulatory tracking service that ASWB provides as a service to members. Committee members: Chair Janet Hartman of Florida, Joline Comeau of Nova Scotia, James Marks of Oklahoma, Sandra Turner of New Mexico, Jamie Wilson of Maryland, and Glenda Webber of Newfoundland & Labrador. Board liaison: Elizabeth Pope.
An inclusive meeting all around
To continue the theme of being together, ASWB's Volunteer Engagement and Outreach department planned a reception at the hotel and encouraged participation of all via Zoom. Many virtual attendees dropped in to chat and share the camaraderie.