A special opportunity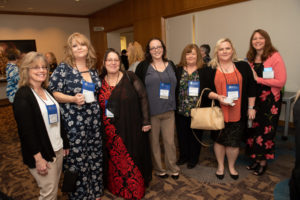 With the 2019 Education Conference taking place in Arlington, Virginia, just an hour from Culpeper, all ASWB staff got to attend the conference on Friday, participating in two sessions and joining members for lunch. It was an opportunity for staff to increase their knowledge about ASWB activities and meet the members whom they support on a daily basis.
---
40th anniversary kick off
The year of festivities recognizing ASWB's 40 years of service kicked off at the 2019 Education Conference with dancing to '70s band Groove Train on Thursday, a photo booth with '70s props and a museum table throughout the conference, and celebratory desserts at lunch on Friday. Between sessions, Board members HAROLD DEAN, PATRICIA O'REILLY, and ROXROY REID facilitated a trivia wheel contest where members answered questions about ASWB history to win prizes. Be sure to view the slideshow to see photos!
---
Congratulations!
RICHARD GREGORY of Alberta was awarded the 2019 Distinguished Service Award from the Canadian Association of Social Workers. RICHARD was nominated by the Alberta College of Social Workers for this honor.
---
In memoriam
Angela Sanders, Arkansas
ASWB joins with the Arkansas Social Work Licensing Board in remembering ANGELA SANDERS, who passed away in April. ANGELA served two terms on the Arkansas board, from 2011 to 2019. During her tenure, she served in the LMSW position and was also vice-chairman from September 2017 to January 2018. ANGELA attended the 2018 Education Conference in Halifax, Nova Scotia, with her husband, VICTOR. RUTHIE BAIN, executive director of the board, writes: "I know ASWB allowed them some special memories together on that trip."
Barbara Kaufman, Minnesota
ASWB has learned that BARBARA KAUFMAN, a past member of the Minnesota Board of Social Work, passed away April 20. BARBARA was active in the ASWB examination development program, serving as an item writer and as a member of the Examination Committee. She was a co-chair of the Examination Committee in 2002 and 2003.
---
Last man STANding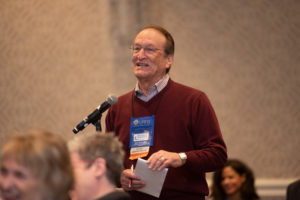 Thanks to STAN WEINSTEIN of Maryland for being a good sport at the 2019 Education Conference! The first time STAN came to the mic to make a comment, he got cut off because the session was ending and the session moderator was trying to keep to schedule. This timing thing happened twice more, turning other attendees into fans for STAN, advocating that he be given time to contribute. Lesson learned? Nobody puts STAN in a …. Oh, wait! Wrong movie. Just goes to show: Timing is everything.
---
Wicked fun!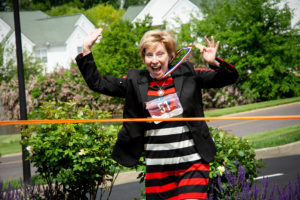 MARY JO MONAHAN won first place in her age bracket in the 2019 Wicked Bottom 5K cross country race in Culpeper, Virginia. WOO-HOO!
---
Then and Now
Note: During our 40th anniversary year, we'll be bringing you Then and Now, featuring memories from the archives and current items, for a look at how ASWB has changed and grown!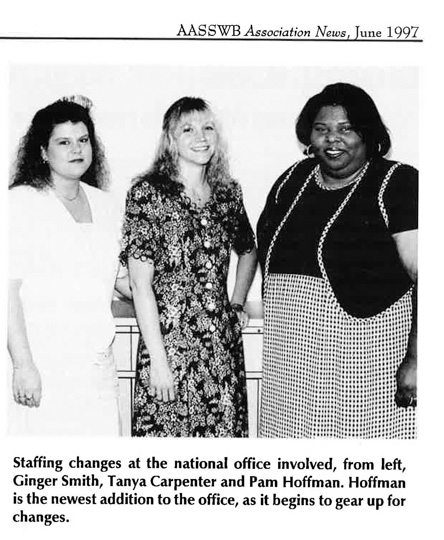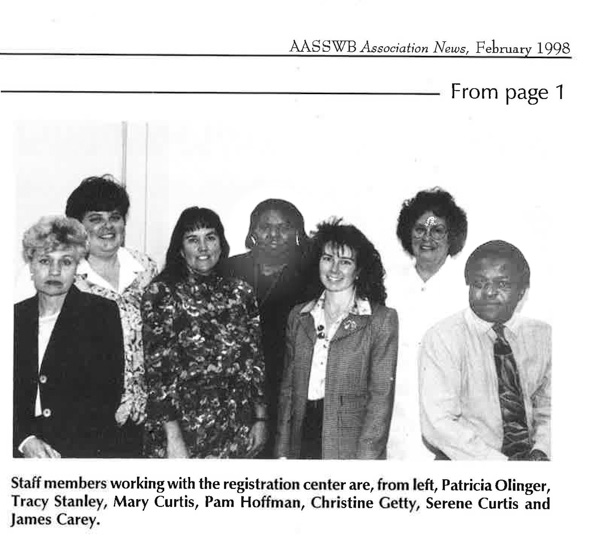 Then:  The Candidate Registration Center opened in December 1997, bringing the process of registering candidates for exams in-house. The task was formerly handled by the testing contractor.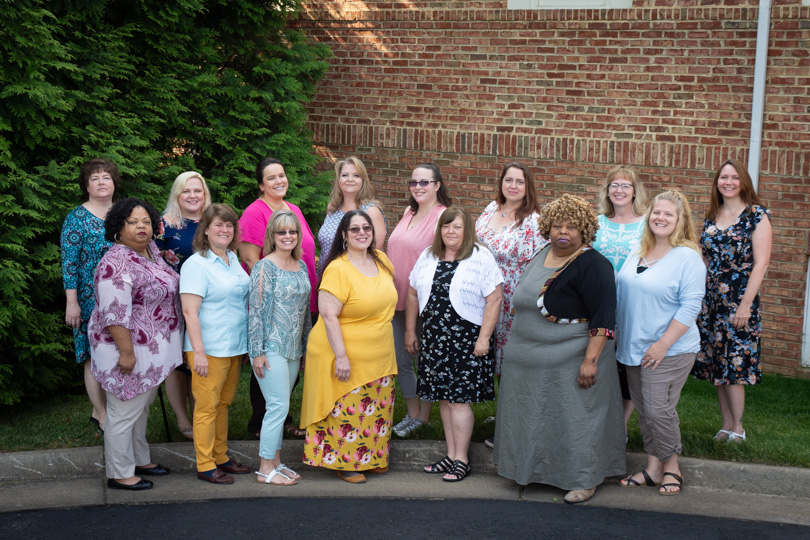 Now:  Though many candidates now register for the exams online, the Examination Administration department's Candidate Services Center handled nearly 70,000 calls in 2018. PAM HOFFMAN and TANYA CARPENTER remain on the staff 22 years later.
---
Building relationships
ASWB Exam Development staff members Angie Overstreet, Brittany Haney, and Lavina Harless (starting third from left), visited with their NCARB counterparts to talk shop.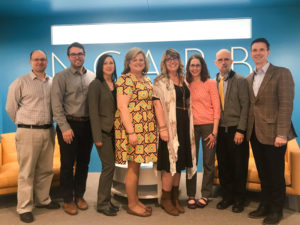 ---
Construction update
With the arrival of summer in Virginia, landscaping of the property surrounding the new ASWB headquarters has begun.  The design features natural meadows and native plantings. Zuni bowls, a beautiful erosion control measure, will help prevent runoff into Mountain Run, the nearby waterway.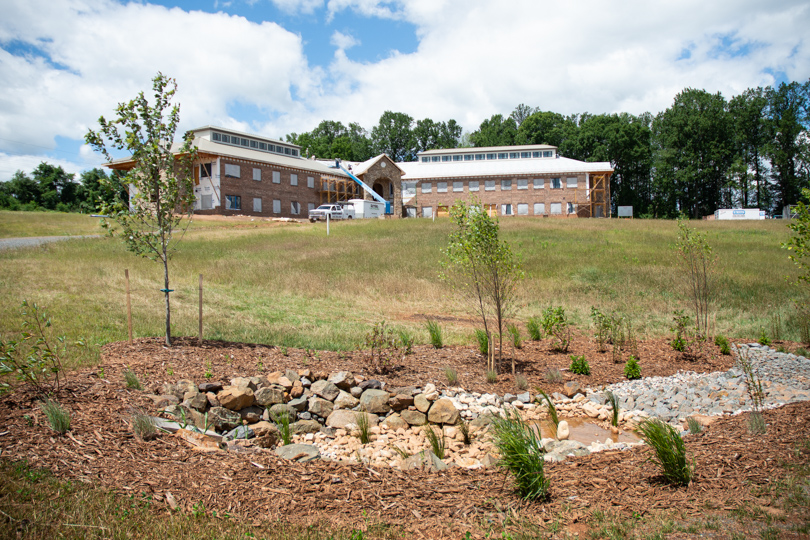 ---
Welcome back, Tommy!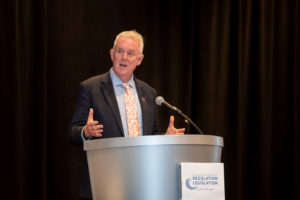 It was good to see TOMMY WELLS of Washington, D.C., again. The former D.C. councilmember was a speaker for the recent ASWB Education Conference session "See the wave like legislators see it." We last saw him in 2009 when he spoke at the retirement party given for then ASWB president CHARLOTTE McCONNELL at the Woman's National Democratic Club in D.C. CHARLOTTE was retiring as director of Family and Child Services in Washington, D.C.—not as ASWB president.
---
A New York state of mind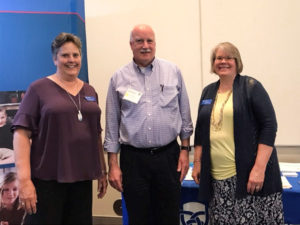 DAVID HAMILTON of New York stopped by the ASWB booth at the NASW-New York State chapter conference in Saratoga Springs to chat with ASWB staff members LINDA HOGAN and JAYNE WOOD.
---
NBMT in Alexandria
The New Board Member Training session held in early June in Alexandria, Virginia, included many regulators and a pair of social work educators. MICHAELA FARBER and DARRIN WRIGHT (shown with program leader JAN FITTS, center), two of the six 2019 Path to Licensure Institute scholars, attended to get an insider's glimpse into social work regulation. The other four Path Institute scholars attended the March training. Several ASWB staff members also attended NBMT as trainees, an experience that deepened their understanding of their work.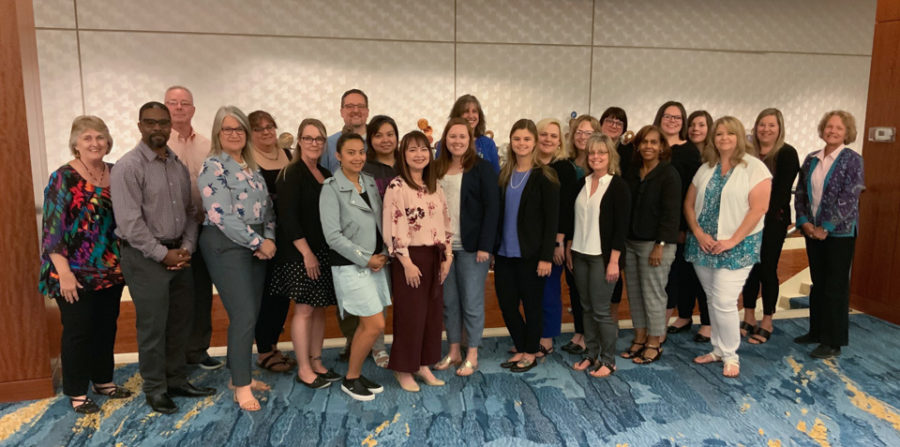 ---
Sad news
ASWB received the sad news that the longtime partner of former ASWB president M. JENISE COMER passed away on Friday, June 7.
---
Send all news and pictures to Jayne Wood, newsletter editor, at jwood@aswb.org or call Jayne at 800.225.6880, ext. 3075.