Collaborating across disciplines and navigating complex systems are familiar to licensed clinical social worker Endsley Real, who emphasizes the importance of clinical supervision and ongoing professional development for social workers.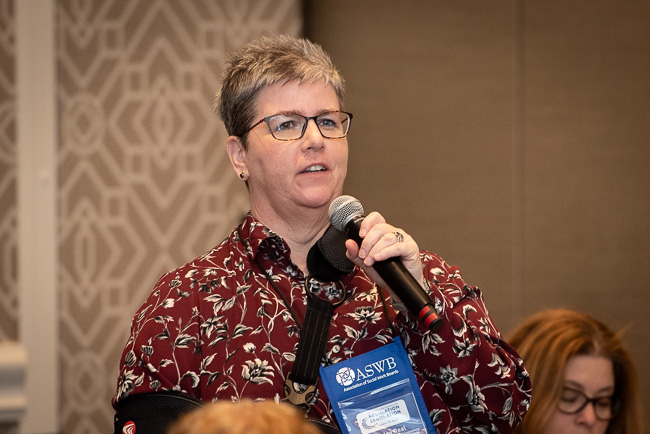 When Endsley Real decided to leave her job as a property tax analyst and become a therapist, she considered becoming a professional counselor. When her own therapist steered her toward social work, Real found an MSW program in Atlanta where she lived. "When I got there and learned how social justice is such a foundation of what social workers do, I was like 'Oh, this totally fits,' [because social justice] has always been very important to me."
During her MSW program at Clark Atlanta University, Real completed an internship at AID Atlanta, the largest HIV services agency in the southeastern United States. This internship in the mid-90s gave Real a close-up view of the AIDS crisis and its impact on the LGBTQ community. "It was during graduate school when I was really coming out to myself and to everybody else," she says. "I did my internship at AID Atlanta in '95," she says, "and '96 is when protease inhibitors came out," marking the beginning of effective treatments for HIV.
"That's the kind of thing that I love about working in the public sector as opposed to the private," Real continues. "These [clients] are often underserved, and so to be able to advocate and help them get those [tools] that just really change their lives, I just find it so rewarding."
I think what always comes up in clinical supervision is the system that you work in. How do you navigate the system and how do you provide the best service possible, even though conflicts sometimes come up?
Real earned her LCSW and considered transitioning her career into a private therapy practice, as she'd intended at the start. "I was working [part time] at a psych hospital and trying to build a private practice on the side," Real says, "and what I really found is that I don't want to be in private practice. I really enjoy working with the public, and the reason why, I think, is because you can give somebody what feels like a little nugget about negotiating life and it'll open up the world for them. … I have specifically stayed in that sector since then, and actually went back and got a master's in public health also, because I love working with those populations."
These days, Real serves as a professional practice specialist for the social work service line at the Joseph Maxwell Cleland Atlanta VA Medical Center. The U.S. Department of Veterans Affairs is the largest employer of social workers in the United States, and the Atlanta medical center's social work service line includes approximately 350 social workers, Real says.
Real develops programs for professional development for the social work service line and oversees the facility's clinical supervision process. By offering in-house professional development, the VA can assure that social workers on staff stay current in the profession and meet their licensing renewal requirements. "We always offer ethics courses," Real says, "because ethics is a requirement [for renewal]. Real spent five years on the Georgia Board of Professional Counselors, Social Workers, and Marriage & Family Therapists, which she also chaired for two years, so she often draws on that experience in developing training programs. "I've talked about some of the studies that ASWB has done around sanctions, and we've talked about the Code of Ethics and how those intertwine [with standards of practice]."

Real isn't the only social worker who shares specialized knowledge through a professional development program. "We use the expertise of the people we have in-house. … So, we have 350 social workers with lots of experience. Some of them, like me, came to the VA midcareer, and so we have this wealth of knowledge that we can tap into." Real says programs can focus on needs common to their veteran client population like PTSD, military sexual trauma, or suicide prevention, or they can cover broader topics like determining a client's decision-making capacity. Real works across departments to develop programs, sometimes relying on expertise of her psychiatrist colleagues, and the social work programs often draw attendees from the VA peer specialists or even the chaplains, many of whom are licensed marriage and family therapists. "We always try to involve people [across departments] because we feel like it enriches our knowledge."
Another key responsibility for Real is coordinating the VA's clinical supervision for early-career social workers. She has been a supervisor for clinical licensure for about 16 years, and provides supervision for VA colleagues on occasion.
Real describes her own clinical supervision as incredibly valuable. "I got really good clinical supervision when I first graduated," she says. "We had clinical supervision in-house, and they also provided an outside clinical supervisor. We had these very intense team meetings where you got so much clinical supervision. It was just the best learning experience." But she also knows that supervision can be the most uneven part of a social worker's preparation. "People don't always understand what clinical supervision is," Real says, and many states have few requirements or specialized training to become a clinical supervisor.
"The one thing I home in on with [my supervisees] is that every interaction is a clinical interaction, and you need to bring that work to everything you do." If a social worker at the medical center is developing a discharge plan, Real points out, "there's a lot of psychosocial issues that need to be taken into consideration to develop an effective discharge plan, no matter where [the client is] going."
"I think what always comes up in clinical supervision is the system that you work in," Real explains. "How do you navigate the system and how do you provide the best service possible, even though conflicts sometimes come up?" Supervision, Real says, is a critical tool for learning to navigate clinical practice.
"This is where the leaders come into play a lot," Real says, "to help your young social workers to have a voice at the table, because sometimes they're having to push back on doctors, residents, attending physicians. … Social workers need to have a seat at this table, to advocate for what we do and to advocate for our clients."