Stacey Hardy-Chandler: On licensure and leadership
When the opportunity presented itself to become a candidate for the position of CEO of ASWB, Stacey Hardy-Chandler believed the timing was right for her to take on the new role. "As I learned more about where ASWB has been and where it is going—and reflected on where I was in my career journey and where I wanted to go—I couldn't help but see the alignment," Hardy-Chandler says. And the imagery in her mind was of two roads coming together and heading in the exact same direction. "The expanded emphasis on data sharing, the partnerships with other social work entities, the commitments to our various stakeholder communities—are all things that ASWB is addressing and that I value."
Hardy-Chandler is a collaborator who seeks partnerships and whose guiding philosophy is found in the word "Ubuntu," which translates to "I am, only because you are," and which she distills to meaning "we-ness." Using this philosophy gives her a community-centric approach that puts the collective best interest first. She views each interest group as a community with a culture, whether the community is ASWB staff, a member board, social work practitioners and professional organizations, or social work educational institutions. All have their own point of view, values, and language. Using foundational social work values and approaches allows her to exercise cultural humility at the community level, opening the door to mutual understanding and collaborative forward movement.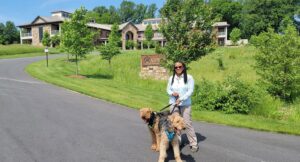 "ASWB is really built on partnerships, even in its membership structure. So I'm really excited about how I might help the organization leverage those even more," she says. "None of this work is 'alone' work. We all want competent practitioners working with the populations social work professionals serve, which tend to be vulnerable and marginalized people."
Stepping into her leadership role as ASWB's new CEO, she says, "My first hope is fulfillment of the strategic framework because I think competency measures and enhancing regulation with the compact are key areas of focus for the organization. And the centering of equity—embedding equity in how we make decisions about all of this—is key. I am excited about achieving those goals."
The regulatory aspect of social work isn't new for Hardy-Chandler. Regulation has been part of her social work core from her days as a supervisee for licensure in California. (Read more about Hardy-Chandler's background here.) She credits her licensure supervisor for giving her high-quality supervision, for "understanding the power that she had in my life as a new clinician," and for taking advantage of that time "to nurture who I was becoming."
As a result of this positive experience, Hardy-Chandler took the training to become a supervisor as soon as she was eligible and became a resource in her community for questions about licensure. She also became known in her workplaces in Nevada and Virginia for carrying hard copies of the regulations with her and "going to the source" when anyone—licensure candidate or colleague—questioned whether something could or couldn't be done in practice. "I have seen regulations serve as a guide for a very long time, as a way to help people not make assumptions," she says.
She also credits the then-executive director of the Nevada Board of Examiners for Social Workers for being an ambassador for the regulatory community and an important resource for faculty at the University of Nevada-Las Vegas when Hardy-Chandler was director of field education. "We had a very good relationship with her," says Hardy-Chandler, "because we were constantly asking clarifying questions, responding to what students were curious about. And she was so responsive. She was the first person I met who was involved in regulation. That partnership was extremely helpful." With the social work board serving as a resource, the university in turn became a resource on licensing and regulatory matters for the community at large.
"Anyone who has met me over the course of my career will tell you that I am an advocate for licensure as a pivotal learning experience," Hardy-Chandler says. The license represents confidence that the person holding it has met certain criteria that evaluate competence. Using the clinical license as an example, she notes that supervision is structured and it has standards, and those components elevate the likelihood of a higher quality experience in that learning.
"While licensure's clinical implications often get the spotlight, licensure overall has the potential to establish pathways to leadership," Hardy-Chandler continues, emphasizing that, in her view, leadership is not limited to certain positions. "Licensure reflects important qualities and skills vital to protecting and serving the public across various social work roles," she says. "Whether someone leads their own caseload or a multisystem organization, licensure has the potential to affect how social work professionals interact with their work and community environments.
"The relationship between a licensure candidate and supervisor or field instructor is such a crucial experience in any practitioner's life," Hardy-Chandler says. "I have known people who have had that high-quality challenging, reflective sort of experience, and it has made them incredible colleagues and leaders."
As a self-described lifelong learner, Hardy-Chandler believes there is value in getting uncomfortable because growth happens when we're uncomfortable. "I am the kind of person who likes to stretch comfort zones," she says. And she stretches herself, as well. Sharing a personal accomplishment, she recounts that five or six years ago she began learning the bass guitar so she could play some of her favorite songs from her favorite genre, '80s R & B. She is now at a point where "the noises I used to make, now actually do sound like songs," she says.