Each year at the Annual Meeting of the Delegate Assembly, ASWB publicly acknowledges the contributions of members and staff of social work regulatory boards. Last year, the ASWB Board of Directors decided that all member board members and staff deserved recognition for outstanding service in responding to the COVID-19 pandemic and increased focus on issues of race and racial inequality. This year, ASWB returned to honoring individuals for these awards.
In August, the ASWB Board of Directors selected Phil Koehl of Illinois and Carol Payne of Minnesota as recipients of the Sunny Andrews Award and Janet Hartman of Florida and Hoon Kim of British Columbia to receive the Glenda McDonald Board Administrator Award based on recommendations and nominations from their peers. Hopes were high that the presentations would be made in person in New Orleans. When it became clear that the annual meeting would be online for a second year, ASWB's Volunteer Engagement and Outreach department worked with recipients and nominators to accomplish the next best recognition to an in-person event using Zoom technology and the event platform.
Attendees were able to celebrate with the recipients and nominators by viewing the presentations of the nominators and acceptance speeches of the winners. Highlights of the presentations follow.
Glenda McDonald Board Administrator Award
Janet Hartman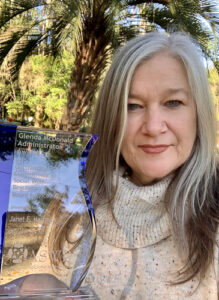 Executive director, Florida Board of Clinical Social Work, Marriage & Family Therapy & Mental Health Counseling
Nominator: Jamie Buller, chair of the Florida board at time of nomination
Buller opened with some statistics about the Florida board, saying: "Janet is executive director for six regulatory boards and administrator for two other department of health licenses. The social work board oversees more than 44,000 licensees." She went on to describe how Janet's strengths from previous experience in state law enforcement keeps the board "in line and on task." In closing, Buller commented, "Janet has the ability to create strong relationships among groups, within professions, and with stakeholders. She is full of grace and has a positive energy that resonates with everyone around her."
Excerpts from the nomination:
Janet is intensely passionate about our role [as regulators] and she works tirelessly to ensure we function ethically and effectively.
Janet ensures a fair and responsible process of legal regulation through completion and execution of final orders, evaluation of disciplinary cases, review of existing laws for necessary and recommended revisions, tracking legislative bills, completes bill analysis of filled bills related to the board, completes a detailed legislative implementation plan, and ensures streamlined implementation of laws.
Janet has the same vision and dedication [as Glenda McDonald] to position those in the counseling professions as leaders and skilled professionals through her educational outreach efforts in universities, community groups and organizations, and professional associations.
Excerpts from Janet Hartman's remarks:
I want to express my gratitude to the best board in the United States and Canada. … It is most important for me to honor the memory of Glenda McDonald. I heard many wonderful things about her. It's a tremendous honor to earn recognition that bears her name.
This recognition means more to me than I can share today. Serving as the executive director of the Florida board has been a tremendously rewarding experience, particularly as the need for mental health providers intensified over the last few years. The Florida board was engaged, proactive, and responsive to the needs of Florida licensees and to the public. It was truly an honor to help guide them during this time.
Hartman recently accepted a new role as chief of health care regulation in Florida, where she will have oversight of 22 boards. She noted: "I will continue to hold social work regulation as a priority."
Hoon Kim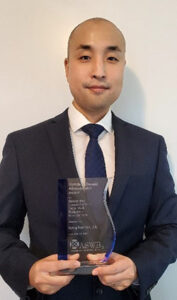 Registration services manager, British Columbia College of Social Workers
Nominator: Mark Hillenbrand, registrar and CEO
Hillenbrand first met Kim when applying for registration with the British Columbia College of Social Workers. Thinking back to that first interaction, Hillenbrand said, "I had no idea how I would come to appreciate Hoon Kim and his calm, efficient, and effective work style." Hillenbrand then gave examples of Kim's efficiency, noting: "In early 2020, when asked to assist with transitioning staff to work from home," Hillenbrand continued, "his response was 'Let's see what's possible.' By that afternoon, he had a plan in place for staff to start working from home the next day."
At that time and in all other situations, Hillenbrand said, Kim has found a path forward. In the almost seven years that Kim has been with the college, said Hillenbrand, "there have been innumerable examples of Hoon facing challenges with a calm, logical, and determined problem-solving approach."
Excerpts from the nomination:
Hoon has led the College through a 60% increase in applications and registration workload over the course of just a few years with no additional staff, yet with apparent ease and notable positivity.
Hoon's participation in decision making processes results in decisions that are consistent, transparent, fair, based on fact and within accepted interpretation of the law. Hoon Kim steadily promotes the highest ethical standards, along with the responsible and effective functioning of College operations and its registration processes.
Mr. Kim is well regarded for his knowledge and understanding of regulation with members of the government, the profession, and the public.
Excerpts from Hoon Kim's remarks:
I am honored to be receiving this award. It was totally unexpected. I am truly humbled and grateful to have my work recognized in this way by ASWB. This accomplishment is not something I deserve by myself because many others deserve to share in this award. …The work of social work regulation can oftentimes be challenging. An award like this gives one the opportunity to positively reflect upon years of social work regulation and realize how important and meaningful their work is.
Philip C. Koehl IV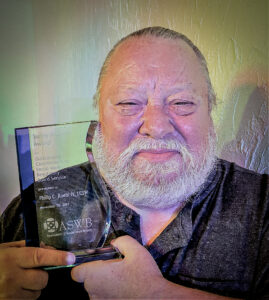 Chair, Illinois Social Work Examining and Disciplinary Board
Nominator: Lauren Craig, board counsel
President Harold Dean recognized Koehl's accomplishments on behalf of nominator Lauren Craig. Craig wrote that Koehl's "contribution of time and expertise has been invaluable in helping the Department of Financial and Professional Regulation accomplish its goal of public protection."
Dean said Koehl "was recognized for constantly cultivating and renewing his ethical vows and standards and not turning down opportunities to grow in the field of social work." Dean concluded: "For all these accomplishments and personal and professional attributes—including perfect attendance at all meetings and hearings—the ASWB Board of Directors is proud to honor Phil Koehl with the 2021 Sunny Andrews Award."
Excerpts from the nomination:
He brings appropriate Board agenda items to the table and always offers his perspective on pertinent issues. He has attended Open Meetings Act orientation and follows those requirements at all times. As Chair, he is responsible for running our Board meetings according to our procedures. He encourages fair and open discussion while following our agendas.
He maintains the highest ethical standards and performance. Because of his high ethical standards, numerous staff members feel confident seeking his advice on social work issues.
Mr. Koehl has been invaluable to the Division of Professional Regulation prior to and especially during the pandemic. The pandemic provided roadblocks, and Mr. Koehl provided solutions. He has risen to every challenge that the Board and profession as a whole has faced, giving sound and timely advice.
Excerpts from Koehl's remarks:
I'm extremely honored and humbled. I think one of the occupational hazards as social workers is we don't get recognized as often as we should, given the great work we all do on a daily basis. As social workers, we rarely get immediate feedback. Being recognized is incredibly special.
Koehl thanked the IDFPR staff for allowing him "to have an impact on social work in Illinois." Koehl nodded to the perfect attendance accolade as reminiscent of his days working as a school social worker. He recalled that the school would hold a bike raffle at year-end as a reward for students attaining perfect attendance. Koehl wondered in concluding his acceptance remarks, "Where can I pick up my bicycle?"
Carol Payne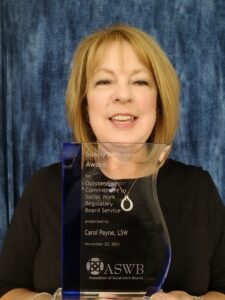 Member, Minnesota Board of Social Work
Nominator: Kate Zacher-Pate, executive director
Zacher-Pate opened her remarks stating: "This is really exciting. Carol is a good example of serving the board with integrity. That was affirmed because the full board voted unanimously to support the nomination of Carol for the award. Few board members are as respected, engaged, experienced, objective, pragmatic, and flexible as Carol." Zacher-Pate continued, speaking about Payne's pioneering entry as licensee #424 out of 30,550 license issued to date, and the different board seats and roles Payne held during her 12 years on the board. She served as board chair, vice chair, and secretary/treasurer, represented the board at ASWB annual meetings as delegate, and served on all but two of the Minnesota board's eight committees. Zacher-Pate concluded: "She served selflessly, with integrity, dedication, and commitment and made lasting contributions as a board leader. It was an honor, privilege, and gift to serve with Carol and to learn from her."
Excerpts from the nomination:
Because of her tenure on the board, leadership experience on the board as a former Chair, experience as a licensed social worker, and general foresight, [Carol] always offers ideas or solutions that are ethical, constructive, innovative, and solution focused.
She has demonstrated many achievements, proven leadership, and an excellent work ethic in her volunteer position with the BOSW.
She has served selflessly as a volunteer board member with integrity, dedication, and commitment for three terms, from 2009 to 2021. Her dedication is proven by attendance at all Board meetings and committee meetings – 66 board meetings and 11 years of countless committee meetings! It is a testament to Carol's selfless commitment that she did not miss a single Board meeting since being appointed!
Excerpts from Payne's remarks:
I'm truly honored to be receiving the Sunny Andrews Award…the ultimate recognition. Being appointed to and serving on the board of social work has been a highlight in my personal and professional life. …The board always had a good mix of seasoned and new board members, which makes for a strong board. I'm grateful for my experience with the board and thrilled at the end of my service that someone else will have the opportunity I had. … I've enjoyed getting to know and work with Minnesota board members and staff, ASWB staff, and regulators from other jurisdictions.
Up to two regulatory board members receive the Sunny Andrews Award and up to two board staff members receive the Glenda McDonald Board Administrator Award. The Board of Directors accepts nominations each spring. Contact Volunteer Engagement & Outreach Director Melissa Ryder at 540.829.6880, ext. 3060, or email at mryder@aswb.org.