Roxroy Reid's leadership formula
Roxroy Reid of New Mexico, ASWB's incoming president of the Board of Directors, says that a simple formula of building relationships and communicating leads to cooperation, collaboration, and coordination.
He has used this leadership approach throughout his life, he says, although he didn't put the formula together until he was getting his doctorate in public health administration and learned about the work of Robert Greenleaf.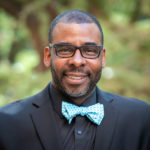 Greenleaf coined the phrase "servant leadership," a philosophy that Reid embraced long before it had a name. "Servant leadership has been a key since my ministerial days," Reid says. "It's a paradox of leadership that you serve those who follow you. From my Army days, it's going out ahead. People follow when they are empowered and given opportunity to collaborate." The ASWB Board of Directors, he continues, does this well. Over the three years that he has served on the ASWB Board, he says, "We've had a nice, steady collaboration. I want to maintain that as president."
Reid backed into regulation by getting selected to first serve on ASWB's 2008 Practice Analysis Task Force as a subject matter expert and then on the score setting panel for the exams that were developed from that practice analysis. From there, Reid applied for and was selected as an item writer for the licensing exams. His next stop: the New Mexico Board of Social Work Examiners. Timing was good, he says, because a vacancy existed on the board. He has been on the board for the last 13 years, serving as chair in 2020 and now as vice chair. Along the way, he made sure he continued his involvement with ASWB as a volunteer.
"I love ASWB and what it stands for," he says. "I love the idea of us keeping social work licensed as a profession." He recalls his first introduction to ASWB staff in 2008 when ASWB flew the Practice Analysis Task Force to Crystal City in Northern Virginia for a meeting. "That was my first introduction to regulation," says Reid. "I met Dwight [Hymans, now CEO], who at that time was new on the scene to ASWB, and many other ASWB staff. Regulation hooked me at that point."
Leadership at ASWB
The past year for Reid as president-elect has been a time of learning the role he will step into in November. He says that he appreciates that President Harold Dean and Hymans have included him in their biweekly leadership calls. "I get to participate in some of the leadership decisions and have a voice," he says.
Because of COVID-19, the association held its first online annual meeting in 2020, the year Reid was elected to the office of president. He notes that he did not have the opportunity to thank the membership for electing him. "It's an honor I take very seriously," Reid says. "I'm very proud of being elected, and I have a deep sense of gratitude that the membership entrusted me with the office of the president."
Serving as chair of the Transition Task Force was an important precursor to the role of president, Reid notes. The task force was appointed as part of the succession planning policy to oversee the selection of an executive search firm and assist in the transition of exiting and incoming CEOs. As chair of the task force, Reid led the process of selecting the search firm. "When the gavel is handed over [at the ASWB annual meeting]," he says, "I feel I will be ready."
Becoming president will not be without its challenges, Reid says. He is grateful that Dean will continue as past president, providing continuity. He will miss Hymans's input as CEO. "Dwight has an incredible amount of history and experience that he will take with him when he retires," Reid says. "It will be a challenge to work with a new CEO who will not have the same reference points." But, he notes, "the Board is up to the challenge. It's another point of transition for the organization."
As president, Reid sees opportunities as well as challenges. "How ASWB as an organization communicates about and embraces DEI will be top of mind," says Reid and high on his list of priorities. "ASWB shows in practice that it is not discriminatory, and seeking diverse input is in place through all processes—testing, education, volunteering," Reid says. "ASWB's stance on diversity has never been a question in my mind." However, not everyone shares that point of view.
Requests for demographic pass rate data from the social work community have been the Board's most recent challenge as it considers whether to release data that has not been collected for this purpose. "ASWB is committed to ensuring exams are fair for all test-takers," says Reid. "However, there's room for growth in our consciousness around DEI, not only at ASWB but in the nation and around the world. We need to let people know we're conscious of and working toward DEI."
Reid looks forward to seeing changes in practice mobility as ASWB leads the development of model social work compact legislation. "I'm very happy the movement toward compacts is happening during my tenure as president," he says.
These three priorities, transitioning to a new CEO, overseeing compact development, and curating ASWB's commitment to DEI, will frame Reid's service as president.
A Renaissance type guy
Although ministry was Reid's first calling, he says that a lot of his social work career was predicated on his previous work as a pastor. "In my work, I've been a social worker all my life," he says. "It's about humanity and people work. We serve each other. From my perspective, it's all about people serving people. That resonates with my social work soul."
Describing himself as "committed to lifelong learning" and "a Renaissance type guy," Reid credits an insatiable curiosity with leading him to multiple degrees: a bachelor's in theology, an associate in psychology and human services, a BSW and an MSW, and a doctorate in public health policy administration. His careers have spanned serving in the ministry, where he founded and led a church for two decades; owning a coffee shop in the restaurant trade; and practicing social work, the profession he loves.
His doctorate in public health policy administration has supported and enhanced his social work training, leading him to the Veterans Health Administration where he works at the Raymond G. Murphy Medical Center emergency department in New Mexico and most recently co-led a Tiger Team charged with researching elder abuse in the VA system. All these leadership experiences in various fields have prepared him for leading ASWB's Board of Directors into the future.
Maintaining Jamaican roots
Reid lives with wife, Jeanne, in Corrales, New Mexico. They are just completing extensive renovations to a home they bought in 2019 that has an acre of land and horse facilities. The couple are considering adding two horses to the mix of family dogs now that their last child has moved to New York City, where he wants to get into theater. Their older son is in real estate in New Mexico, and their daughter and 15-year-old grandson are living in Arizona, where she works for AAA.
Reid's extended family, including his mom and five siblings, live in North Carolina and Virginia. Born in Jamaica, Reid proudly claims dual citizenship. He says that his mom brought the children to the United States when he was about 10 years old. At the time, the U.S. labor market had opened up so opportunities were available to his mother to immigrate for work as an au pair. She was then able to bring the family over after establishing work. Reid was naturalized as a citizen when he was 16, just two years before he enlisted in the U.S. Army for a four-year service commitment in Army intelligence.
Reid maintains his Jamaican roots, trying to visit his relatives there as often as possible. The pandemic interrupted those visits, and he hopes to travel there in 2022. He notes that between his volunteer service as incoming president of ASWB, his work at the VA and in private practice, and his plans for visiting family, 2022 will be a busy year.