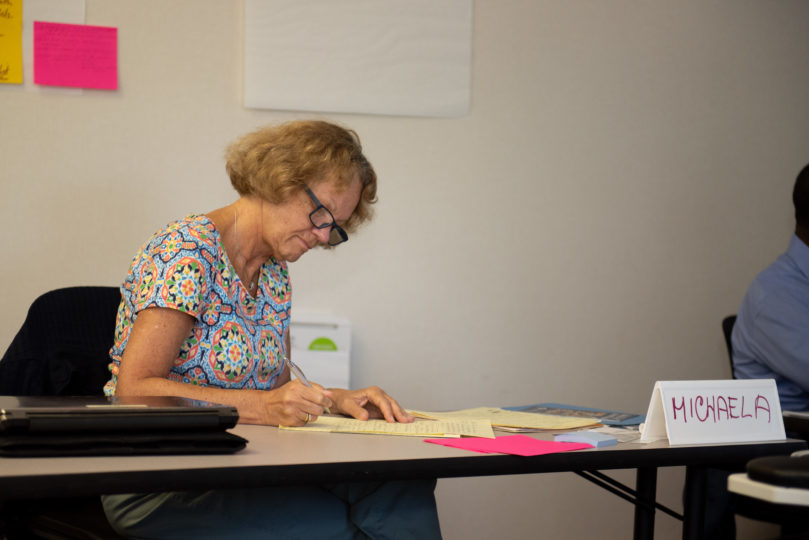 Six scholars and two faculty members gathered this June at ASWB headquarters in Culpeper, Virginia, for the 2019 Path to Licensure Institute intensive.
Representing colleges and universities from several regions in the United States, these educators engaged in a weeklong learning experience facilitated by ASWB staff and led by two faculty members who have a longtime affiliation with ASWB through their service as regulators. The intensive was part of a three-year commitment to taking a leadership role in enhancing learning about licensure and regulation at their schools and producing regulatory research.
"The motivation and passion of others in the room—not just scholars, but also ASWB staff—inspire me to remain focused and excited to produce quality regulatory research." — Path to Licensure Institute scholar
Sharing and creating information
The Path to Licensure Institute aims to help scholars learn about social work regulation and licensure so that they can implement a Path to Licensure program in their schools and complete research on social work regulation. "Before the intensive in June," says Jan Fitts, ASWB education and research senior manager, "the scholars complete several tasks, including reviewing the Curricular Guide for Licensing and Regulation, attending a meeting of their jurisdiction's social work regulatory board, and performing a literature review in preparation for undertaking their own research."  After the intensive, scholars embark on two more steps: the implementation of a Path to Licensure model they create for their own social work program and the completion of a regulatory research project. "This is the second cohort of scholars to participate in the program," Fitts says. "The first group started in 2017 and will finish research in 2020."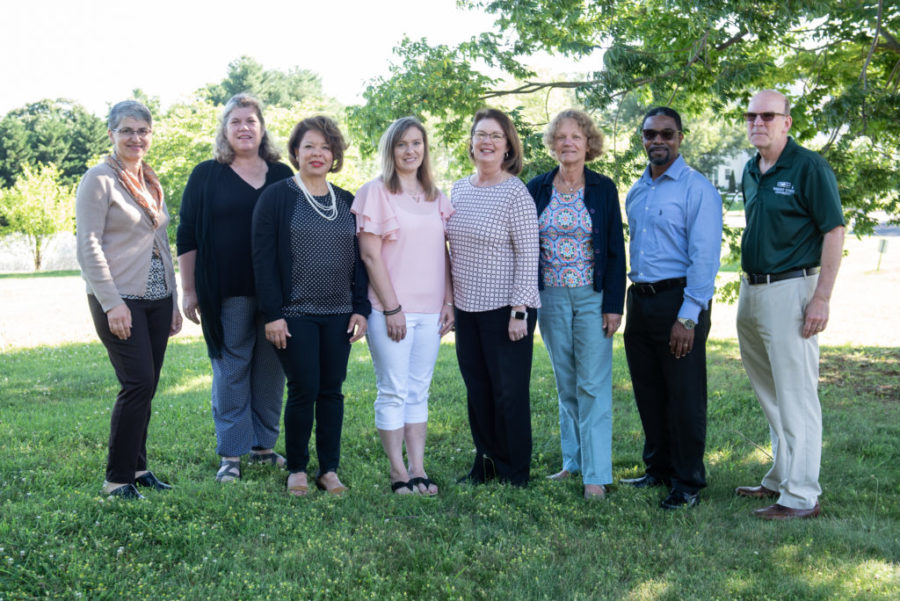 Thinking like regulators
A new feature of this year's institute gave scholars the opportunity to attend ASWB's popular New Board Member Training before the intensive. They joined regulators at either the March session in Charleston, South Carolina, or the June session in Alexandria, Virginia.  In their evaluations, scholars commented on what they learned at New Board Member Training. One gained an understanding that the laws governing the practice of social work differ across jurisdictions, while another learned to appreciate the judgment calls required of regulators as they make decisions. "Board members can't think like social workers," one attendee said. "They must think like regulators."
Fitts shares the scholars' enthusiasm for including New Board Member Training as part of the Path to Licensure Institute. Because the scholars had received this strong background in regulation, she says, "the intensive itself could be more geared toward helping them understand how their research could be used by regulators."
Gathering in Culpeper
Though it comprises only a single week of a three-year process, the intensive serves as the centerpiece of the Path to Licensure Institute. Sessions include collaborative work sessions and presentations from institute faculty and ASWB staff. The 2019 scholars learned about the models implemented by members of the 2017 Path to Licensure Institute cohort; used resources from the Curricular Guide for Licensing and Regulation; talked with ASWB directors and managers from the departments of Examination Administration, Examination Development, and Marketing and Communications; and collaborated with one another to draft Path to Licensure models for their schools and generate ideas for regulatory research topics.
Jennifer Henkel, senior director of member services and strategic initiatives, offered a session called "Deep dive into regulation diversity," sharing the range of license titles, continuing competency requirements, and supervision requirements. She followed up with an account of ASWB's efforts to make this diversity manageable for social workers through the association's practice mobility efforts. Cara Sanner, ASWB regulatory support services coordinator, led a session on data research and data mining. And faculty members Anwar Najor-Durack, Ph.D., LMSW, of Wayne State University (Michigan) and Carl Brun, Ph.D., LISW-S, of Wright State University (Ohio) facilitated individual and collaborative work on the intensive's two main tasks: helping scholars create a model for their school of social work and define their individual research question.
Implementing a Path to Licensure model
Inspired by all they have learned about regulation, the scholars are challenged to channel their newfound understanding into action when they return to campus. Michelle Woods, LMSW, who directs MSW career services at the University of Michigan, Ann Arbor, said of her colleagues, "I am realizing there is information they don't know. I want to create a program to give them the knowledge they need."
Dianna Cooper-Bolinskey, LCSW, LCAC, LICSW, says she was already committed to teaching about regulation, having served on the steering committee that created the Curricular Guide for Regulation and Licensing. "Now," she says, "I am more motivated to develop a framework and incorporate ideas into a plan." Her model begins with the creation of a team of subject matter experts at Capella University, an online program; they will establish a baseline of licensure content that already exists in the curriculum, design further steps to be taken in the upcoming school year, and work with others in the university ecosystem to add language about licensure to marketing materials and student handbooks and manuals.
Darrin Wright, Ph.D., LMSW, MAC, SAP, points to a key feature of Path to Licensure: "I like the … model of infusing licensing and regulation [information] throughout the curriculum," he says. "It demystifies the process and helps add value for students." Wright hopes to use his Path to Licensure model to build on the informal introduction he currently offers as director of field education at Clark Atlanta University (Georgia), which is among the oldest historically black colleges and universities in the United States.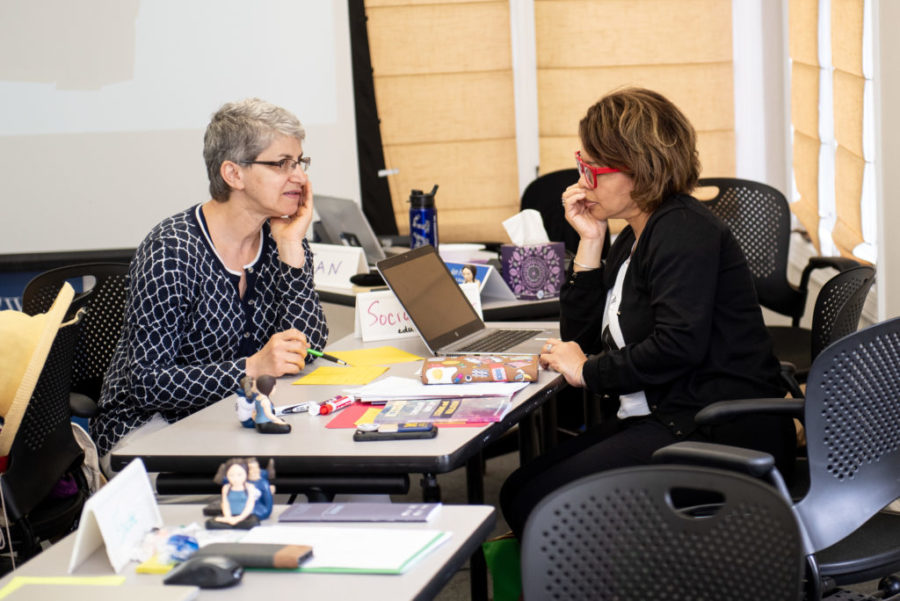 Defining a research question
The institute's research component challenges scholars to develop a specific question and add to the body of knowledge about regulation and licensure. Tiffany Welch, DSW, LSW, of Mansfield University (Pennsylvania) admits to feeling intimidated by the prospect of completing a research project, but the support from ASWB and the other members of her cohort were just the push she needed. "The other scholars are motivating and inspiring," Welch said. Though she began the week wondering if she would be able to choose from the many possible research topics that interested her, she ended up narrowing her focus. Welch plans to engage in participatory action research that will help regulatory boards determine what factors to take into account when considering whether to license individuals with a prior criminal record.
Tamara Kincaid, LICSW, CAPSW, QMRP, of University of Wisconsin–River Falls is using data published by states to examine how licensure exemptions affect outcomes. She will focus on whether states that require licensure for child welfare workers have better outcomes than those that exempt those individuals from licensure.
For the students
Though their roles in their universities differ and their interests diverge, the 2019 cohort of scholars shares a single value, summarized by Welch: "Our job doesn't stop when [our students] cross the stage." She wants them "to see beyond their lives as students and prepare for professional success."
These educators' concern for their students' success converges with ASWB's strategic objective of collaborating with social work educators to increase acceptance of regulation for public protection. "The 2019 scholars are so excited about bringing knowledge and insights to their students," says Fitts, "and also about contributing to the body of knowledge about regulation."