Divine Nine shine
Attendees at the 2022 Annual Meeting of the Delegate Assembly included nine sorority members from the "Divine Nine", the historically Black fraternities and sororities of the National Pan-Hellenic Council. The National Pan-Hellenic Council consists of nine historically Black Greek letter organizations in the United States, including five fraternities and four sororities. Although the NPHC was founded in the 1930s, most of the organizations that are members were founded in the very early 20th century when Black college students were not allowed to join all-white Greek organizations. The Divine Nine organizations have distinctive cultures, philanthropic efforts, and membership traditions, but they frequently work together and support one another.
CEO Stacey Hardy-Chandler mentioned "wearing pink and green," referring to sorority Alpha Kappa Alpha's signature colors, in her introduction to the delegates. Before the meeting was over, nine women representing three different sororities gathered for a group photo to celebrate their connection.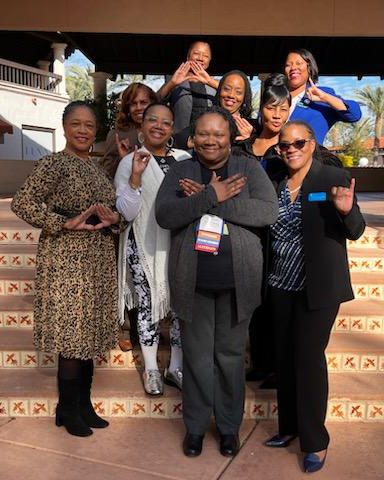 Front: Kay Gresham (GA), Delta Sigma Theta; Hyacinth McKee (LA), Alpha Kappa Alpha; Kenya Anderson (TN), Zeta Phi Beta; and Stacey Hardy-Chandler, Alpha Kappa Alpha. Back: Sondra Petty (MD), Alpha Kappa Alpha; Jacqueline Lowe (SC), Delta Sigma Theta; Melanie Robinson Findlay (MA), Delta Sigma Theta; Stephanie Moultrie (NC), Alpha Kappa Alpha; and Elizabeth Pope (NC), Alpha Kappa Alpha.
---
Photos from the Annual Meeting of the Delegate Assembly
Attendees at the welcome reception on the Thursday evening before the annual meeting enjoyed a performance by award-winning hoop dancer Scott Sixkiller-Sinquah (Gila River, Hopi, Choctaw, Cherokee). Sixkiller-Sinquah was a winner of the 30th Annual World Championship Hoop Dance Contest. Considered a show dance, hoop dancing is common to many indigenous tribes in North America. Sixkiller-Sinquah performed with drummer and singer Palmer Lomakema (Hopi).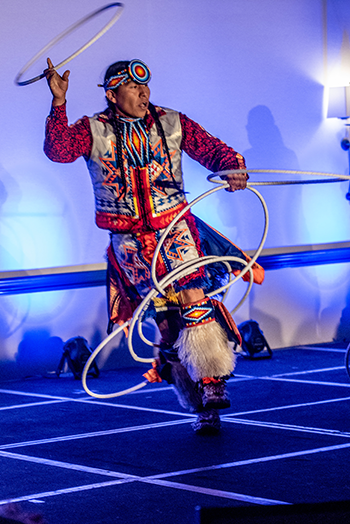 ---
ASWB staff coauthor article
ASWB staff members coauthored a paper in the January 2023 issue of Research on Social Work Practice. The article, "Defining Clinical Social Work and its Implications for Practice," was written by Katharine Bloeser of the Silberman School of Social Work at Hunter College and ASWB staff members Cara Sanner, regulatory support services program manager and Jennifer Henkel, senior director of member engagement and regulatory services. The issue also features several other articles focusing on social work regulation.
---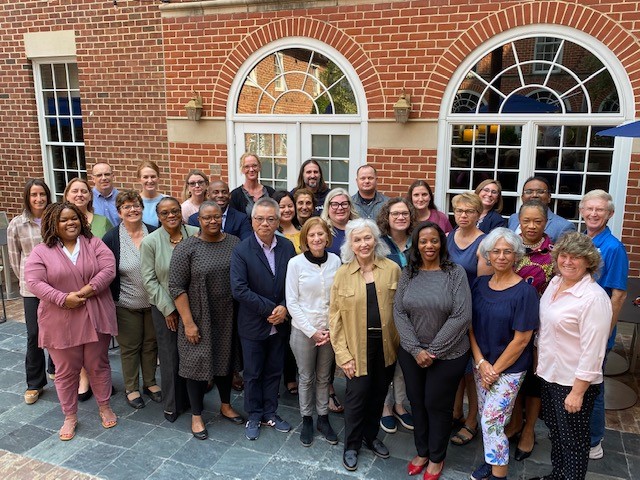 Well represented
The final New Board Member Training session of 2022 was well attended, with 29 members from 18 jurisdictions engaged in learning in Alexandria, Virginia.
---
Accidental twinning
Beverly Coon of Oklahoma and Hyacinth McKee of Louisiana showed up on day three of the annual meeting inadvertently dressed nearly identically, right down to the pinstripe pants and silver footwear.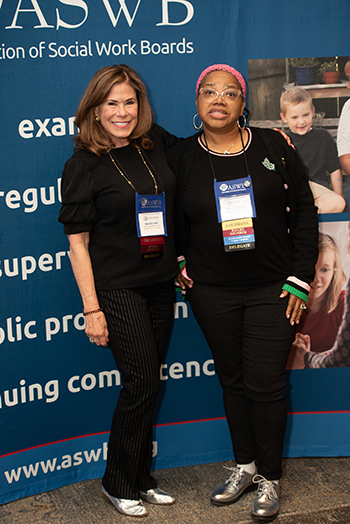 ---