New to the role, but not new to ASWB
"Whatever you are, be a good one."—Abraham Lincoln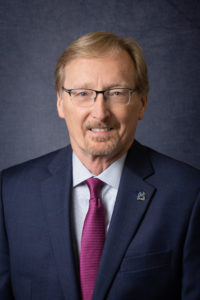 Dwight Hymans, ASWB chief operating officer, shared Lincoln's quote during his remarks following ASWB President Harold Dean's announcement to staff that the Board of Directors had selected Hymans as incoming CEO. Hymans used the opportunity to offer thoughts about leadership and teamwork to the rest of the staff and to the Board.
His pledges to staff included that he plans to continue the values and culture that Mary Jo and he worked to create over the last eight years, he will support staff in their roles, and he will continue to collaborate with all staff to ensure that ASWB stays mission-focused. He concluded the remarks with a quote from Margaret Mead, "Never doubt that a small group of thoughtful, concerned citizens can change the world. Indeed, it is the only thing that ever has," noting "I'm confident that this group of thoughtful, concerned staff can do just that within the regulatory world."
Pledges to the Board focused on building a collaborative working relationship, continuing to learn with Board members, and being accountable, answerable, and responsible for the mission, vision, and core values of this organization. "I plan to lead with you," Hymans promised. "As Helen Keller said, 'Alone we can do so little, together we can do so much.' "
And there is much to do, in Hymans's view.
Present
Challenges that Hymans sees in regulation include the current political climate around licensing and regulation. He noted a need for increasing efficiencies around the licensing process in response to what he anticipates will be "some fairly significant pressure" from legislators and professional organizations.
He gave as an example the recent changes to law in Illinois that were enacted in an attempt to streamline the process by permitting students to take the Masters licensing exam without preapproval. Unfortunately, because ASWB was not consulted, the process as enacted falls outside ASWB exam policy, which requires that all exam candidates must be approved by the relevant state board before registering for an exam. ASWB is working with Illinois to resolve the issue. Hymans acknowledged the impetus to help students get licensed more quickly, saying: "We understand the rationale behind it, and it's those kinds of pressures that I think we're going to continue to face."
Another challenge: the question around use of the exam in the Canadian provinces and creating a French version of the exams. Hymans expressed that one of his goals is to support the Board to make some decision about this issue and move forward. In the past, ASWB was not yet ready to act, he noted. A decision, he said, will help ASWB determine how to continue to evolve as an international organization.
The third challenge he mentioned involves staff moving into the new building and acclimating to all of the changes that will come as a result of that move, such as changes in workflow and changes in relationships. But, "in the long run," he said, "we're going to have a great facility. Everybody's going to be happier and content, and I think will work better."
Hymans knows about working with ASWB staff. He has been with the organization for 13 years, hired as board services manager. He was promoted to director of board services and then to deputy executive director under former executive director Donna DeAngelis. For the last eight years, he has been part of the executive leadership team with CEO Mary Jo Monahan, as executive vice president for four years and as COO since 2016. During his tenure with ASWB, he said, "I've had the opportunity to really be a part of every single aspect of the programs here at ASWB."
His understanding of the exam program has been informed by serving as a subject matter expert supporting the practice analysis process and Examination Committee meetings. In the early years of his tenure at ASWB, he was one of only three social workers on staff—DeAngelis and Lavina Harless, now director of examination development, being the other two. "I really have learned to appreciate what goes into putting the exam program together," he said. "The opportunities I've had to be a part of it have really created for me a solid understanding of the exam program, all aspects of it." And he also knows what it's like to take and pass the Clinical exam, an experience that gives him perspective on the process from the candidate's point of view.
In his role as director of board services, Hymans spent a lot of time traveling to visit with member boards—mostly in the early years to talk about the exam program but also to consult with boards about regulatory issues. He also had oversight of the ACE program and the Social Work Registry. Contract services such as application processing were in their infancy, he recalled; however, the Massachusetts contract was in place, serving as a model for other jurisdictions as time has passed.
Past
Prior to joining ASWB, Hymans led the master's field program at Indiana University-Purdue University Indianapolis School of Social Work. It was a large program, and he recalls filling between 500 and 550 placements each year. Before that, he was an assistant professor at Ball State University Department of Social Work in Indiana, where he taught in the areas of macro social work practice, social work policy, and field education.
Hymans got started in teaching, he said, because of family circumstances. He was practicing in a private not-for-profit setting as a clinical social worker providing services to individuals, couples, and families after getting his MSW degree from the University of Iowa. When his first wife died of breast cancer, he was suddenly a single dad with a clinical practice that required a lot of evenings and weekends devoted to working with clients. A friend who was retiring from teaching at a school of social work in northwest Iowa encouraged him to apply for a teaching job at her school. Within a few months of Hymans being hired, the friend retired, the other faculty member left, and Hymans—the remaining faculty member of the program—became head of the department.
From there, he applied for and accepted a teaching position at Ball State, in part because he felt the need to move away from the northwest Iowa culture. "It just fit," he said of the opportunity at Ball State. "It fit me real well at the time. I enjoyed the classroom; I didn't necessarily enjoy all of the politics of a campus—it really has a lot of politics. But one of the things I liked about Ball State is that they continued to emphasize teaching over research, and that's really not the case in very many places."
He got to Virginia, he said, due to another set of family circumstances—a job opportunity for his wife, Karla. She had supported him in his job decisions, he said, and he wanted to support her opportunity. She had lived in Virginia before they got married, and he knew she didn't really enjoy living in Indiana. Fortunately, he said, the day that Karla started her job at the hospital in Warrenton, Virginia, he saw the ad for board services manager with ASWB in Culpeper, a town about 30 miles away from her workplace. "I kind of took a risk coming out here, a professional risk," he said, "but it has paid off very well for me to be a part of this organization."
Future
As CEO, Hymans looks forward to continuing to focus on "really building the leadership knowledge, skills, and abilities of staff. We'll do the 'KSAs of leadership,' " he said. "Mary Jo came in; she was so very gracious to partner with me. We've tried to build that so that it's not such a true reliance on her or me, and I think we need to keep that going."
In working with the Board of Directors as CEO, Hymans looks forward to building stronger relationships with Board members. There will be a shift as he moves from being employed as staff to being in a contractual relationship with the Board. However, he does not anticipate a dramatic shift in the work—in large part because of the leadership style Monahan embraces. "I've been a part of many of the hard conversations that the Board and Mary Jo have been a part of, and she's pulled me into those. So in some respects, it [my relationship with the Board] is not going to change dramatically; but it certainly is going to change contextually."
Hymans will become CEO on May 1, following Mary Jo Monahan's retirement on April 30. Members will be able to welcome Dwight into his new role and bid farewell to Mary Jo at the 2020 education meeting in Chicago.