Serving as a delegate
Delegates are individual representatives of ASWB member organizations. Each ASWB member jurisdiction is allowed one delegate at the Annual Meeting of the Delegate Assembly.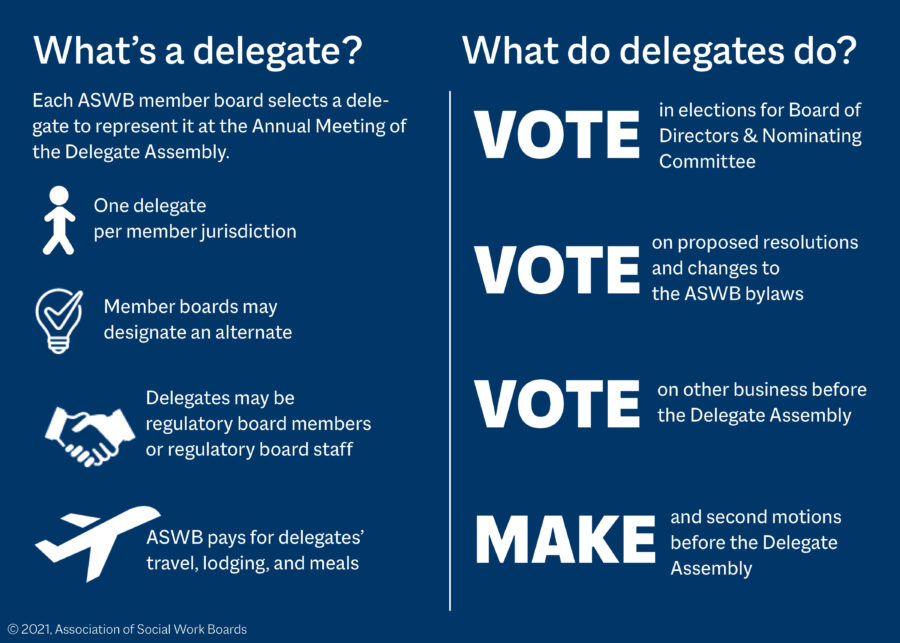 These delegates are funded to attend the meeting, which means all travel, meals, and lodging are paid for by ASWB.
Member jurisdictions are encouraged to send additional representatives to the meeting who may serve as alternates, but those representatives are generally not funded.
From Article VI, Section 7 of the ASWB's bylaws:
A Member Board is entitled to be represented by a single vote on each issue put to a vote before the Delegate Assembly. Member Boards shall vest the right to vote in their Delegates and Alternate Delegates. Voting by proxy is prohibited. Delegates, Alternate Delegates, all members and employees of Member Boards, and all members of Association committees shall have the privilege of the floor at all Delegate Assembly meetings. Only Delegates are eligible to make and second motions.
Delegates are expected to vote in elections for leadership positions within ASWB, as well as amendments to the ASWB bylaws and any other business. Delegates will receive information about official actions at the annual meeting prior to attending and are encouraged to discuss these matters with their fellow board members.