Focusing on our mission amid a sea of change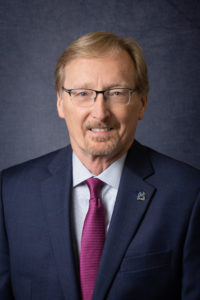 Anyone who is involved with ASWB is aware that the last few years have brought significant change in many aspects of how the social work profession is regulated. From how boards operate in a pandemic world to the powerful drive to understand disparity of access to the profession, all of us have needed to evaluate our usual ways of viewing regulation and how things are done. It's no longer possible to go back to the way things were a few years ago. We know more. As a result, we have an obligation to reexamine how we conduct the necessary day-to-day activities that open the way for social workers to become licensed and begin their work.
ASWB is on the cusp of a sea change. Major initiatives have been identified and begun that not only are new for the association, but also can potentially affect the broader regulatory community. The Board's decision to release exam performance data came in the midst of changes that include the new collaboration of the Social Work Workforce Coalition, an expanded practice analysis, development of a French language version of the exams, and working with members on legislative regulatory initiatives. And the association will be experiencing a leadership change as a new CEO comes aboard. I appreciate a quote from American journalist and author Sydney J. Harris, who said: "Our dilemma is that we hate change and love it at the same time; what we really want is for things to remain the same but get better." It's the paradox of change. In the middle of muddling through these changes, some reminders seem appropriate. Lest anyone think this is a preachy diatribe—which it may be—I offer my apologies.
No one can deny the pressures for change that are all around us. As we experience them, we must remain focused on the core mission, vision, and values of our association, keeping these tenets central to our thinking and creativity. With so many external factors and influences, it's not always easy. Emerging trends and competing interests can influence decision-making and may have a positive or negative impact on our future and mission. When new ideas and directions come before us, we need to evaluate their key objectives through a critical lens that considers how they fit into our core purpose. It's the first question we should be asking.
Change will not come if we wait for some other person or some other time. We are the ones we've been waiting for. We are the change that we seek.
We must also continue to invest in the people who do the work of ASWB including staff, member board members and their staff, volunteers who contribute to ASWB's work, and the many individuals and organizations we contract with throughout our programs. We must continue to prioritize and invest in those programs that advance public protection and the work of our member boards. And finally, we must always do these things with integrity, excellence, and creativity. To do anything less would not be meeting our mandate.
Change is part of life and at the core of what social work is about. And change is a process: It may at a minimum seem disruptive, and at times it may seem chaotic and unfocused. Charles Darwin said, "It's not the strongest or the most intelligent who will survive but those who can best manage change." On many occasions during my years as a social worker I have been a part of significant change, often as the person encouraging and supporting it. I am confident that in this time of change ASWB will manage the change well. We have capable and dedicated staff and invested and thoughtful volunteers on our Board of Directors, committees, and member boards who are involved and focused on their mandate of protecting the public.
As I enter the next part of my life experience, I leave ASWB with a great deal of gratitude and pride in having been part of the good work of this organization. My thanks to all of you for the effort and energy you put into this work. And my best to everyone as you continue the journey.