The social work regulatory body responsible for issuing your social work license has developed criteria for those who can take the examination. In most jurisdictions, you will need to establish your eligibility before you register to take the test. Always check with your social work board before you begin the test application process.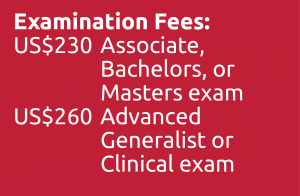 It is extremely important that you know your jurisdiction's laws and regulations regarding the licensing process. These vary, as do the fees you may be required to pay to your jurisdiction's licensing board and the deadlines for when they are due. Always follow your jurisdiction's procedures.
All candidates should download a copy of the ASWB Candidate Handbook, which will guide you through the registration process. This document is available online only.
After you have received notification from your jurisdiction's licensing board that you may take the ASWB examination, you must register with ASWB and pay the required exam fee (US$230 for the Associate, Bachelors, or Masters exam; US$260 for the Advanced Generalist or Clinical exam). Note: ASWB's fees are separate from any fees payable to your jurisdiction's licensing board.