ASWB presented awards to three long-term contributors to the regulation of social work at the 2019 Annual Meeting of the Delegate Assembly.
Contributor Award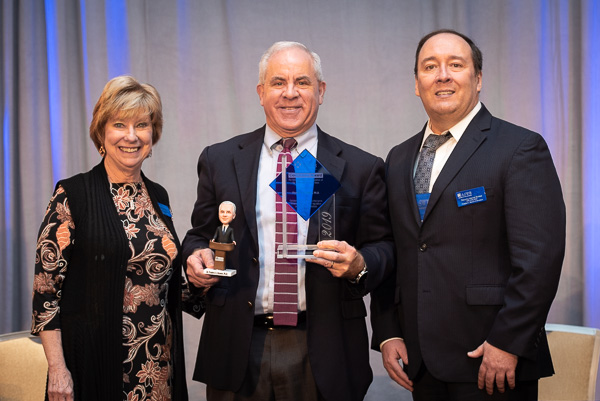 The Contributor Award—given this year for the first time—went to Frederic G. Reamer, Ph.D.
"What a career!" ASWB President Tim Brown said upon presenting Reamer with the award. A professor in the graduate program of the Rhode Island College School of Social Work since 1983, Reamer has had, according to Brown, "…an exceptional impact on the social work profession." Brown catalogued Reamer's many contributions, ranging from helping to revise the 1996 edition of the NASW Code of Ethics to working with ASWB to develop model regulatory standards for technology and social work practice to leading the effort to develop and later revise technology standards used by social work practitioners. He has taught, written, and spoken on competent, ethical practice for more than 30 years.
Beyond his academic contributions, Brown said, Reamer also displays admirable personal characteristics. "… Dr. Reamer interacts from a place of unselfish kindness, generosity of spirit, and big heartedness," Brown said. "Today, we recognize Dr. Reamer for his selflessness and service on the many volunteer leadership projects he's been involved in."
In accepting the award, Reamer offered the keynote address, reflecting on the history of social work ethics and the challenges presented by technology. He outlined major eras in social work ethics understanding, putting the current era into context. As those concerned with social work ethics meet the challenges of today's "digital period," he said that we are experiencing a time of uncertainty about the ethical ramifications of electronic practice.
He acknowledged both the positive and negative aspects of service provision through, for example, the use of avatars in a virtual group therapy session. "I think it's complicated, with arguments for and against," he said. "It's what we call ambidextrous ethics." The term, he explained, refers to the need to balance the advantage of increasing access to mental health care with the challenge of dealing with informed consent, confidentiality, and boundaries.
"And I think that's where we are in our profession," Reamer said. "We're trying to figure out the difference between being there in person for our clients and using [technological devices] and the implications for regulation."
Glenda McDonald Award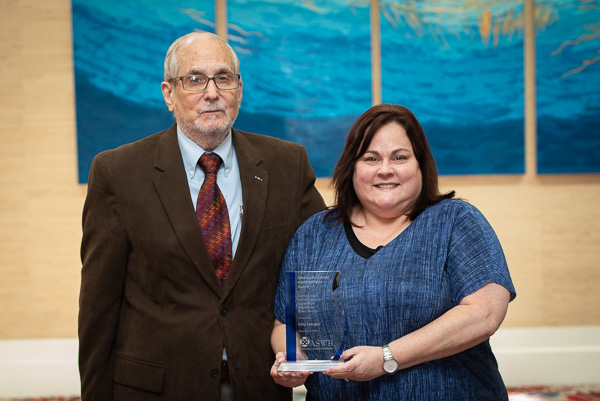 The 2019 Glenda McDonald Board Administrator Award for Outstanding Commitment to Social Work Regulatory Board Service was presented to Emily DeAngelo, administrator of the Louisiana State Board of Social Work Examiners. DeAngelo has been the administrator of the Louisiana board for 11 years and employed by the board for more than 20 years. She first won this award in 2005.
Presenting the award, Louisiana's board chair, John Shalett, said, "Emily typifies willpower, resolve, fortitude, tenacity, determination to achieve, courage and yes, positive stubbornness." He shared that the members of the board who nominated DeAngelo highlighted her commitment to activities "that serve to protect the public and inform behavioral professions on the importance of regulation through education and outreach." She coordinates visits by board members to schools of social work and social work agencies and serves as a regular speaker at Louisiana NASW chapter events. "She exemplifies what it means to be a true ambassador for the board."
In accepting the award, DeAngelo spoke of the mentors who helped her achieve excellence and her passion for public protection. "And while I may be a very quiet person, … my quietness is never meant to be disinterest because I have so much interest in the protection of the public."
Sunny Andrews Award
Robert Payne of Idaho received the 2019 Sunny Andrews Award for Outstanding Commitment to Social Work Regulatory Board Service. Payne served as a member of the Idaho Board of Social Work Examiners for 20 years, recently finishing his final term.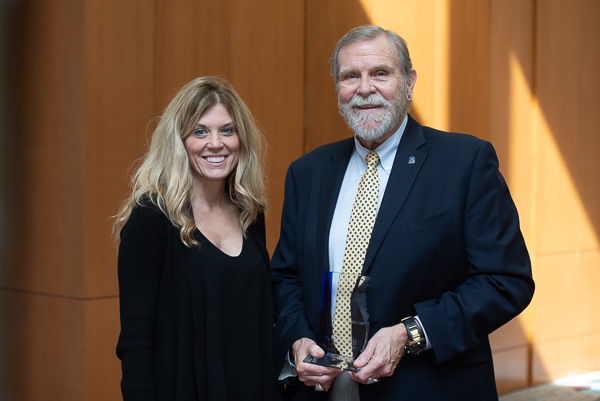 Donna Hatch, chair of the Idaho Board of Social Work Examiners, presented the award, accompanied at the podium by board member Ginny Dickman. "Over the years," Hatch said, "[Payne] has worked diligently to align our statutes closely with the ASWB model law. He has testified before numerous House and Senate committees to explain proposed law and rule changes, and he has served on various committees, steadfastly working with our board to be proactive and progressive."
Dickman agreed that Payne's leadership has been an asset to her home state. "He has been able to take ASWB recommendations and move them forward," she said, "and we've gotten so many of the recommendations approved and adopted."
Accepting the award, Payne said it reflects the efforts of many to make positive change. "This will not go in a drawer," he promised. "It'll be proudly displayed. …This really belongs to all of us."
The Sunny Andrews and Glenda McDonald awards are given annually and are named after social work regulators who exemplified the attributes and character of outstanding board members and staff through their service to their individual jurisdictional boards.