Collaboration for improvement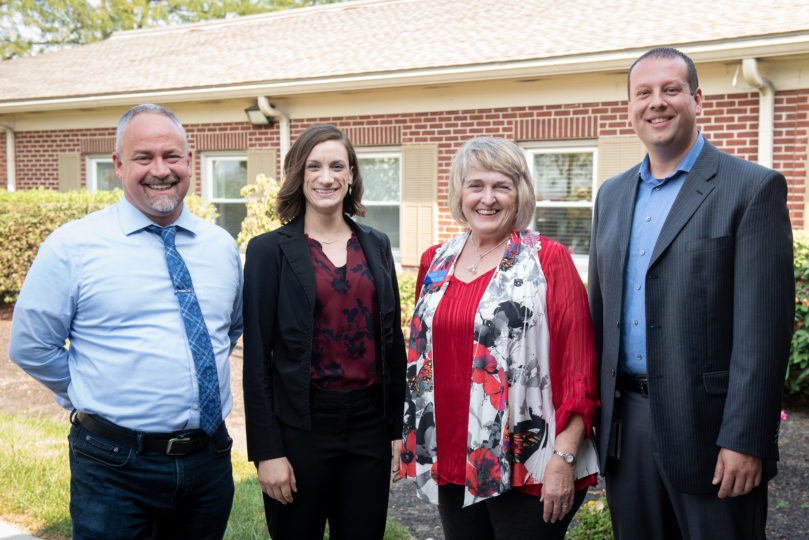 An innovative collaboration between an ASWB member board and a group of educators took place in September in Columbus, Ohio, when that state's Counselor, Social Worker and Marriage and Family Therapist Board hosted more than 50 educators and guests for a day of information-sharing.
ASWB's Education and Research Senior Manager Janice Fitts was on hand to present on the Path to Licensure program.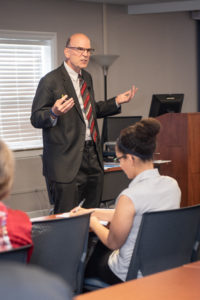 The event was conceived by two Ohio board members who have a history of involvement with ASWB. Erin Michel, who serves on the Regulatory Education and Leadership Committee, and Carl Brun, who serves as an instructor for the 2019 Path to Licensure Institute and helped create the Curricular Guide for Licensing and Regulation, wanted to get educators together with the board to the mutual benefit of both groups. ASWB's participation was a product of the association's commitment to serving its member boards. "This is one service," said Jennifer Henkel, ASWB senior director of member services and strategic initiatives, "where ASWB is able to support members, provide a North American perspective to all discussions, and learn from members and their constituents given ASWB's unique role as the only nonprofit organization dedicated to supporting social work regulators across the United States and Canada."
The event was made richer because of the composite nature of the Ohio board. "Social work drove this forward with the ASWB Path to Licensure model," said Ryan Pickut, chair of the CSWMFT Board. "I know that as a composite board, all of us have the opportunity to learn from other disciplines. The goal is face time with the board," Pickut told the group, which was made up of an even number of educators in social work and counseling, as well as a few educators and board members who are licensed marriage and family therapists. He emphasized that the vision was to open a dialogue: "We want to help you understand what we do and find out what you need from us."
The opening session was devoted to an exchange in which educators were encouraged to share questions they had heard from their students and recent graduates about licensure and regulation. Topics that emerged included practice mobility and electronic practice, licensing and exam fees, test-taking strategies, exam pass rates, continuing education requirements, and scope of practice.
Fitts followed with a presentation on Path to Licensure that addressed many of the questions the educators had mentioned. She engaged the educators by providing abundant resources they can use in their classrooms to integrate information about licensing and regulation throughout the curriculum. "There is something about regulation in every course," she said, emphasizing that the Curricular Guide for Licensing and Regulation is designed to help educators by connecting content and activities to each of the nine Council on Social Work Education EPAS competencies. The presentation included examples of how the guide's activities could be tied to specific Ohio statutes.
Fitts also spent time demystifying the ASWB exam, sharing information on the anatomy of an exam; the statements of knowledge, skills, and abilities that inform the exam; and the resources available from ASWB, such as the Group Review Practice Test that social work schools can purchase. She said she is encouraged by the receptivity of the Ohio educators to Path to Licensure because the educators' openness to including information about licensing and regulation throughout their curricula will help students as they move into their careers.
"We want to help you understand what we do and find out what you need from us."
Other sessions included a presentation by three of the Ohio board's investigators. Bill Hegarty, Tracey Hosom, and Margaret-Ann Adorjan shared updates on ethics and summarized cases they had recently been involved in. "Having the investigations group present highlighted the necessity of teaching students about the pitfalls they might face," said Fitts. "The ethics session emphasized the reason educators need to teach about regulatory obligations."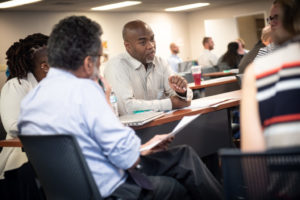 For the Ohio board, the purpose of the event went beyond helping educators teach about regulation and licensing more effectively. "We also saw it as an opportunity for the board to get feedback from educators," said Brian Carnahan, the board's executive director. The day ended with a robust conversation about the takeaways and observations garnered from the sessions. "We realize we are partners in ensuring those the board licenses are prepared to practice," Carnahan said. He is encouraged by the positive feedback he has received about the collaborative event, but he also knows that the board now has a responsibility to follow up with changes based on what was shared by educators. "We have to make sure we make some changes that demonstrate we are serious about creating an effective process for obtaining a license," he said.
Carnahan also hopes other boards throughout North America will follow Ohio's example and host similar events, taking advantage of ASWB's valuable services to its members. "Make a clear plan for what the board hopes to accomplish," Carnahan said, "and provide plenty of time for discussion."