Then and Now
Note: During our 40th anniversary year, we'll be bringing you Then and Now, featuring memories from the archives and current items, for a look at how ASWB has changed and grown!
Then: An early website news page from 2000 announces two big moments in ASWB history: the change of the association's name from AASSWB to ASWB and a new logo that features an interwoven knot still used today. (Click the image to see it full-size.)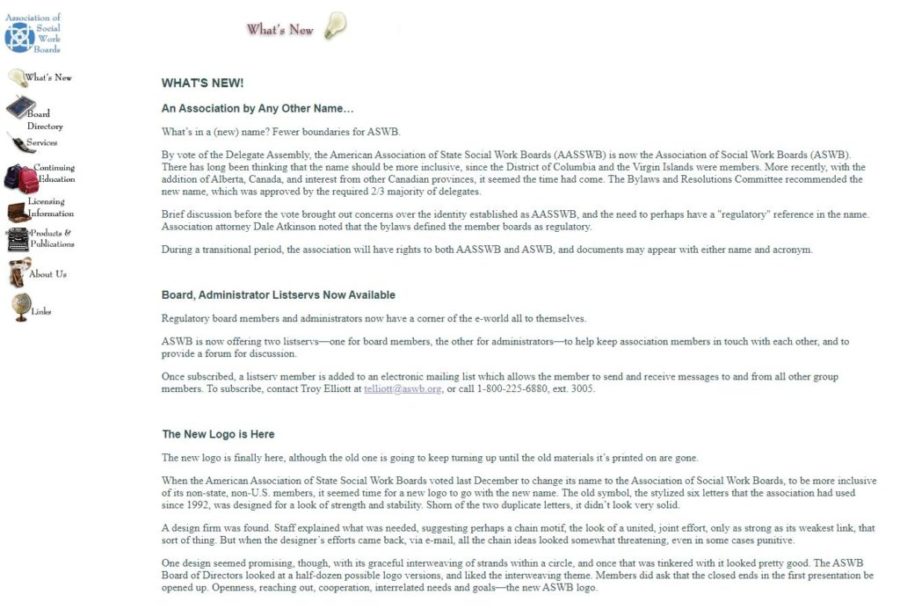 Now: The news page on today's aswb.org features recent articles from association news that emphasize regulator education and ASWB volunteer contributions.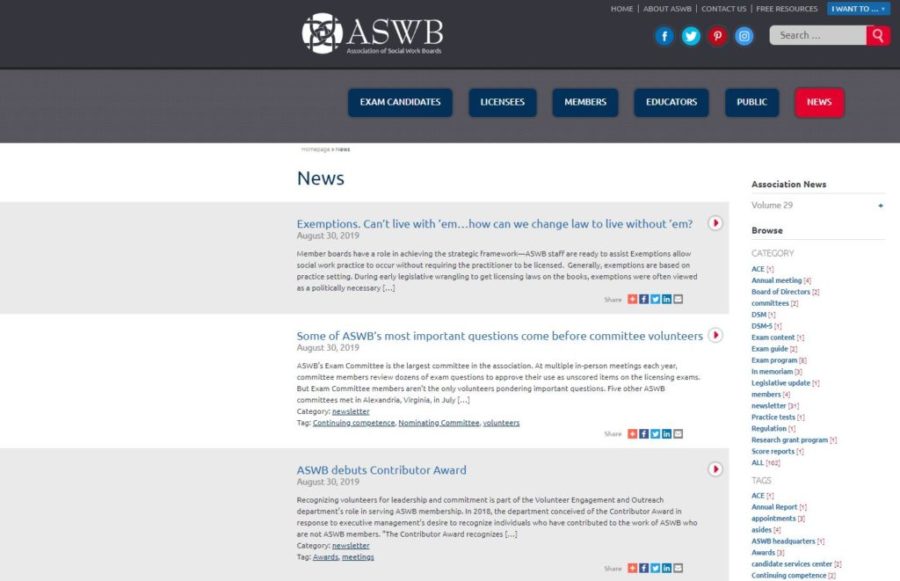 ---
Providing power, covering cars
ASWB's new headquarters demonstrates the association's commitment to sustainability in many of its design features. The property's environmentally friendly infrastructure uses solar panels to shade employees' cars while supplying most of the building's electricity needs. And those needs are minimized by clerestories set into the roof and the use of light-harvesting technology.
---
How to get to Carnegie Hall? Practice!
DORINDA NOBLE, former ASWB president, is heading for Carnegie Hall in November. Her choir was invited to perform on the venerated musical stage. She says she is looking forward to her debut—but she insists: "I am NOT the star." Break a leg, DORINDA!
---
On the road, again and again
Education and Research Senior Manager JAN FITTS spent several weeks on a tour of the midwestern United States in September, promoting the Path to Licensure program with stops in West Virginia, Ohio, Indiana, and Michigan before returning home. In addition to the collaborative day with the Ohio board, JAN worked with two members of the Indiana board on a half-day licensing workshop at the Indiana NASW chapter conference. Her last top was Michigan, where she teamed up with Registry & Contract Services Supervisor BRANDY GURGEVICH to host an exhibit booth at the Michigan NASW chapter conference.
Meanwhile, Member Services Senior Manager DAVE RYCZKO traveled to Lincoln, Nebraska, to exhibit at the NASW-Heartland conference. The Heartland conference is a collaborative effort of several NASW chapters in the center of the United States, including Iowa, Minnesota, Missouri, North Dakota, Nebraska, Oklahoma, and South Dakota.
---
A team effort
Two ASWB employee teams, the Philanthropy Team and the Green Team, recently engaged in service projects intended to make a difference in the Culpeper community.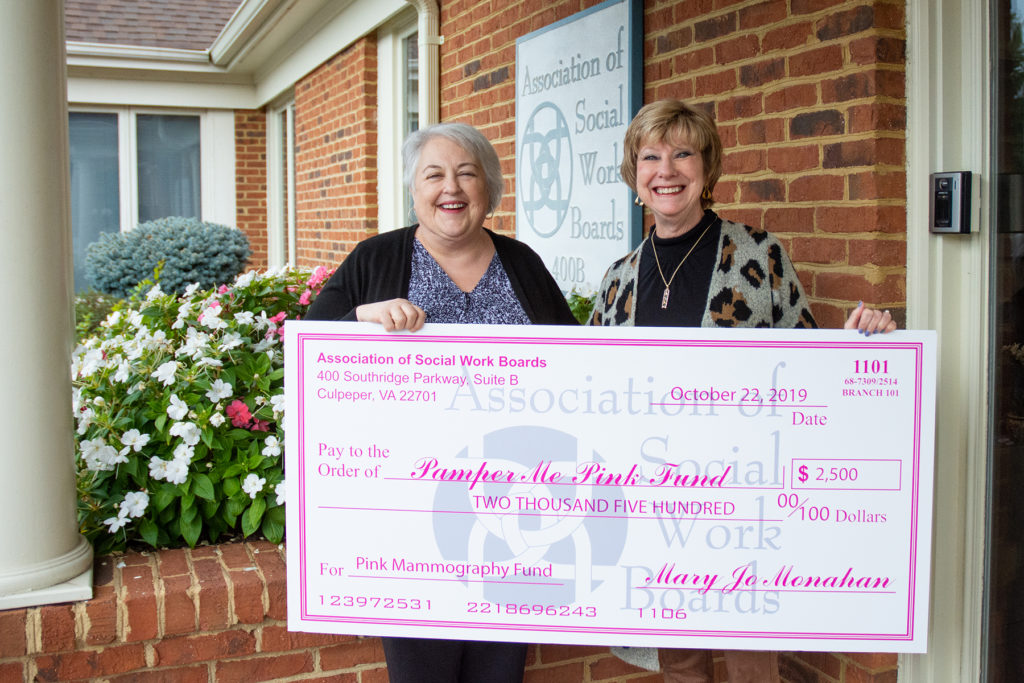 ASWB CEO Mary Jo Monahan presents the check for Pamper Me Pink.The annual Green Challenge Week, a week focused on sustainability, ended in an out-of-the-box fashion with a dozen employees gathering at the Culpeper Senior Center for a morning of sharing. ASWB Chief Operating Officer DWIGHT HYMANS called the numbers for a bingo game as ASWB staff members paired with seniors. Director of Information Technology DAN SHEEHAN presented a talk on cybersecurity for seniors, and CEO MARY JO MONAHAN presented a $1000 check from the Philanthropy Team. Each of the seniors received a reusable grocery bag filled with nonperishable food items donated by ASWB staff members. "With all of this preparation for our new facility, the fact that ASWB is planting even deeper roots in the greater Culpeper community has been present in our minds," said Green Team chair CARA SANNER.
ASWB was also present at Culpeper's annual Pamper Me Pink educational event. This year's donation of $2,500 brought ASWB's total contributions to more than $10,000. The fund has helped 600+ people receive mammograms during its 14 years of existence.
---
Send all news and pictures to Jayne Wood, newsletter editor, at jwood@aswb.org or call Jayne at 800.225.6880, ext. 3075.