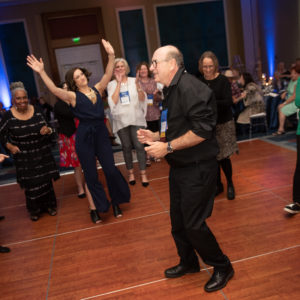 They say it's your birthday
After hearing that CLAUDE SAVOIE of New Brunswick was celebrating a birthday, DJ Adam gave him a moment in the center of the dance circle, playing the Beatles classic so CLAUDE could showcase his moves. The dance party, featuring hit songs from years that were significant in ASWB history, was part of the 40th anniversary festivities during the Annual Meeting of the Delegate Assembly in Orlando, Florida.
---
Smile!
Did you find yourself in front of the camera at the annual meeting? Do you want to relive the fun or get a visual on what happens at an ASWB meeting? View the delegate assembly slideshow to see who was caught on camera in Orlando.
---
Small world
JOE HARPER of the Examination Committee stopped by the ASWB booth at the NASW-Illinois chapter conference where he was also exhibiting.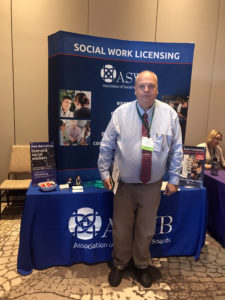 ---
New attendee orientation goes virtual
About 20 new attendees at the 2019 Annual Meeting of the Delegate Assembly took advantage of orientation offerings designed to prepare new delegates and other first-timers from ASWB member boards for effective participation. Several registrants attended virtually by logging into a new online orientation webinar held before the meeting. Topics included leadership and committee structure at ASWB, the election process, networking opportunities, and tasks for after the meeting.
The orientation is important, says Melissa Ryder, volunteer engagement and outreach senior manager, because it makes the meeting more effective. "… New attendees need to feel comfortable and confident about what to expect."
Jennifer Henkel, senior director of member services and strategic initiatives, noted that the new online training allowed attendees to participate in this training as well as the leadership orientation offered onsite during the same time slot. "Expanding opportunities for member engagement and training via technology is definitely the way of ASWB's future," she says. "It allows us to reach more members while not taking them away from home and work."
First-time attendee and delegate GÉRALDINE POIRIER BAIANI of New Brunswick was one of those who took advantage of the online orientation. "Attending the online session was convenient but also allowed me to learn about the ASWB committees at the leadership session that was scheduled at the same time in Orlando."
"Thank you for being open to having different options for people to participate," wrote JAMIE WILSON of Maryland after participating in the online session.
---
A shared anniversary
In his keynote at the annual meeting, Contributor Award winner FREDERIC REAMER shared that, like ASWB, he and his wife DEBORAH SIEGEL are celebrating their 40th anniversary this year. His talk focused on the impact of technology on social work practice, and he closed by drawing parallels with communication in marriage. "Back then, in 1979, when ASWB was invented, the only way I could say 'I love you' was to be in the same room or maybe over a phone with a cord attached to the handset. That was it. It was like face-to-face, clinical social work. You had to be there. And now I can pull this thing out, and I can pull up her text message address, and I can type in 'I love you.' Technology is terrific, but there's nothing like being there in person."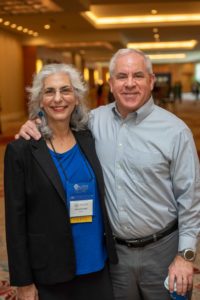 ---
Then and Now
Note: During our 40th anniversary year, we've been bringing you Then and Now, featuring memories from the archives and current items, for a look at how ASWB has changed and grown!