Mask-erade
Some ASWB Board members shared photos and updates about their lives during the pandemic.
BEATRICE TRAUB-WERNER of Ontario misses her grandchildren but has found ways to stay connected via "dinners" and chats online with family and friends. "Work is 100 percent online," she says, "and outings are so far restricted to taking the car for a ride!"
Though President HAROLD DEAN of Arkansas wears a surgical mask and goggles when seeing patients, he dons one of his many stylish fabric masks as he moves about his agency. "If we have to wear them on a daily basis, we might as well accessorize," the always-fashionable HAROLD says. "Some days, one bow tie is just not enough!"

---
In memoriam
ASWB joins with NASW in remembering ELIZABETH (BETSY) CLARK, who died May 23, 2020. BETSY served as CEO of NASW from 2001 to 2013. After her retirement, she cofounded the Start Smart Career Center and was inducted as an NASW Social Work Pioneer. Her clinical background was in oncology with an emphasis on hope, hospice, loss, and grief. Among the topics she frequently wrote about was the importance of identifying as and using the title of social worker.
---
Examining self-care
The Examination Committee compiled a fun set of self-care tips at a recent online meeting.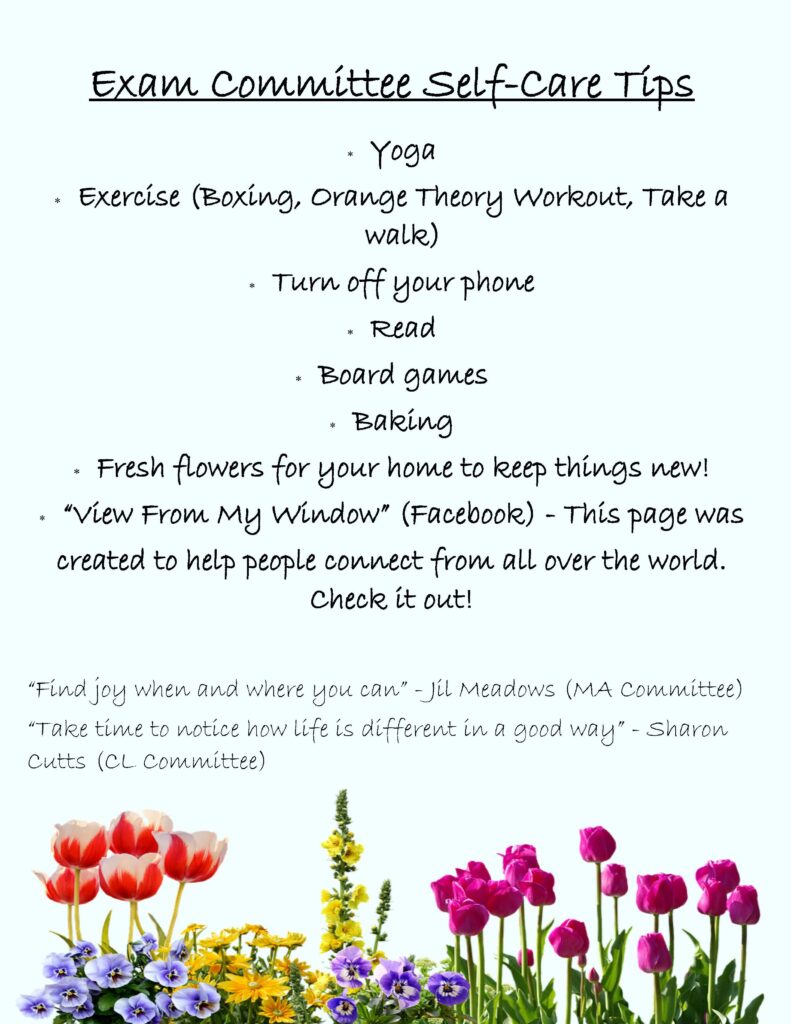 ---
ASWB makes a difference at NASW National conference
ASWB leaders presented two sessions at the virtual NASW National conference, Social Workers Make a Difference, June 15–17.
Education and Research Senior Manager JANICE FITTS, Senior Director of Member Services and Strategic Initiatives JENNIFER HENKEL, and Director of Examination Development LAVINA HARLESS led the breakout session titled "Licensing 2020—Everything a Professional Social Worker Needs to Know About Licensure."
CEO DWIGHT HYMANS was a panelist with NASW CEO ANGELO McCLAIN and CSWE President and CEO DARLA COFFEY in the plenary session "Social Work: The Way Forward," which featured the organizations representing the three pillars of the profession discussing topics including leadership, technology, racial equity and criminal justice, mental health, and preserving democracy.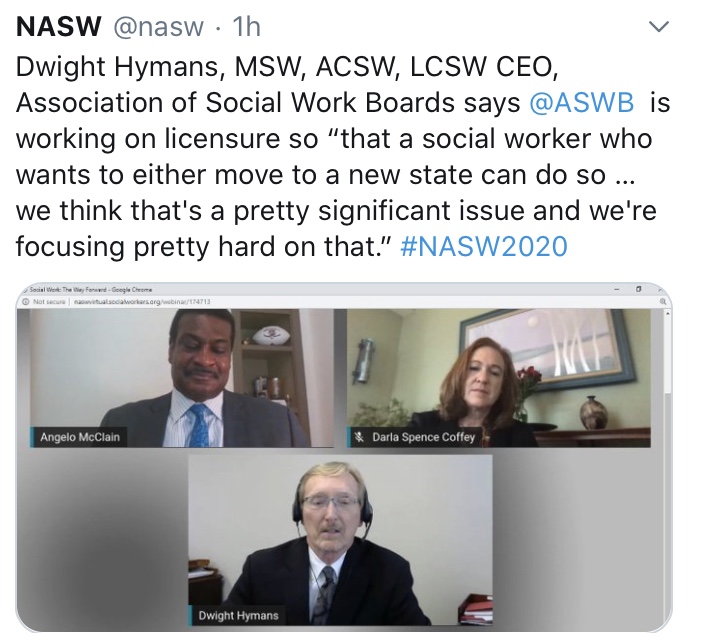 ---
A bittersweet sendoff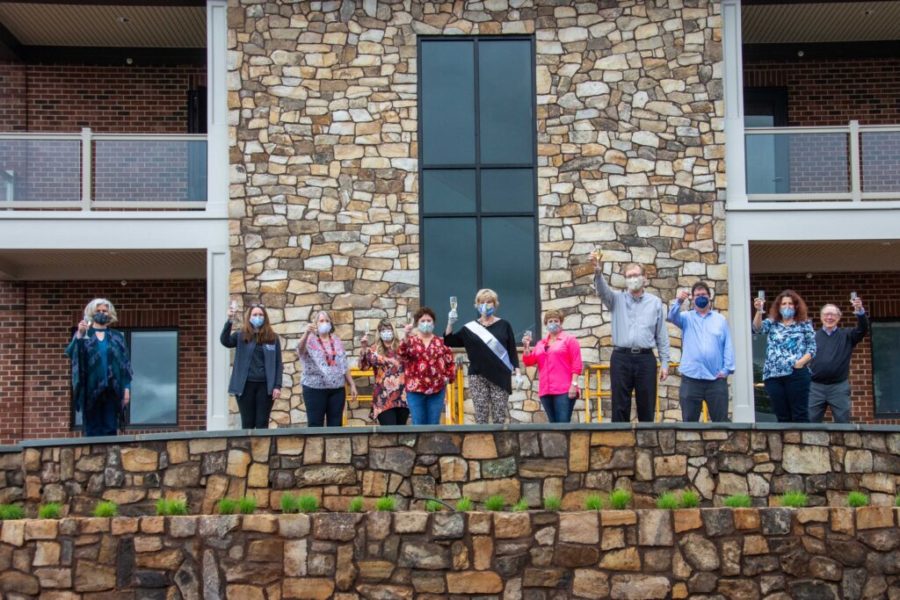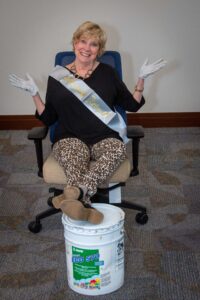 On April 30, MARY JO MONAHAN's last day of work, senior staff members surprised the outgoing CEO with a small, socially distanced gathering at the association's new headquarters. MARY JO enjoyed refreshments, video tributes from the entire staff, and a quick spin in the CEO's chair in the office that she never got to occupy.