Always the one who spoke up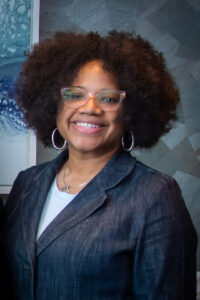 "Basically, I've been an advocate my entire life," says Dr. Hyacinth McKee, LCSW-BACS. That determination to speak up for those who may not be able to speak for themselves has led McKee into a varied social work career and to service in three governor-appointed positions in her home state: the Louisiana Board of Social Work Examiners, the Louisiana Developmental Disabilities Council, and the Louisiana Women's Policy and Research Commission.
Her advocacy training started early, within her own family. McKee grew up with siblings who had developmental disabilities and parents who were committed to advocating for their children and others. "As a young child, I would see my father go to the state capitol and actually fight for the rights of people with disabilities," she says. "And doing that as a child, moving into being a teenager and seeing how bills become law is something that I learned." Even though she often resisted going to sit through hearings or meetings with legislators, her father insisted, and the lessons stuck.
McKee earned her bachelor's degree from Xavier University of Louisiana, a historically Black university in New Orleans. Being at an HBCU was life-changing, she says. "You embrace fully what it means to be Black, when you attend an HBCU. … Attending an HBCU was one of the best decisions that I could have made, because I learned so much about Black history." She also found her voice at Xavier, as she served in student leadership. "I'm always the one who spoke up, spoke out of turn, and that's how I became a social worker," McKee continues. "I decided that, you know, I might be pretty good at this."
Her first job after graduating from Xavier was with the National Alliance on Mental Illness, where she provided direct support to individuals diagnosed with severe mental illness. "I took such a liking to that," McKee says, "and I got the opportunity to work closely with a licensed clinical social worker who would write the service plans, and I would say 'What does MSW mean? What does LCSW mean?'" That work supervisor, Amy Chauvin, encouraged McKee to pursue her MSW and a social work career, eventually serving as her internship placement supervisor. "Watching other social workers engage in social work is what really helped me learn how to become a social worker," McKee says.
Watching other social workers engage in social work is what really helped me learn how to become a social worker.
While at Southern University at New Orleans for her MSW, McKee completed her master's thesis on home- and community-based waiver services for individuals with disabilities. This project required working closely with the Louisiana Department of Health and Hospitals: Office for Citizens with Disabilities, where she interned and was later hired after she graduated. "This was my first time to work in administration and policy," she explains, "and I enjoyed working with that population, as it became a full circle… Something I had been thrust into as a child, I was now doing as a professional."
She then made her way into school social work in New Orleans, working first in traditional public schools, then breaking ground as a charter school social worker post-Katrina. "School social workers have all types of roles, it is a specialization," McKee says. "They're able to work in administration and policy, but they also serve as micro practitioners in that they're connecting with families. … There's also the mezzo piece with school social work when you are engaging in group interventions. School social workers can engage in micro, mezzo, and macro practice and not even realize that they're doing it!"
McKee was one of the first five social workers to return to the schools in New Orleans after Hurricane Katrina forced all public education to close for many months. In February 2006, she and her social work colleagues were "mopping, sweeping, and did whatever it took to open school buildings and let kids in. We let in any kid who came to us," because students needed the stability and consistency that school provides. "I was in an elementary school. … I had children who were 16 years old who were enrolling in eighth grade just because they needed to get into school."
New Orleans shuttered all its public schools in the aftermath of the storm, and when the schools reopened, they were and continue to be all charter schools. McKee and her colleagues were adaptable, finding ways to provide a full range of services to children and families making their way in a new school environment. They founded the New Orleans Charter School Social Work Network, which now has more than 100 participating schools, to discuss effective ways of meeting their students' needs.
In the aftermath of Katrina, "we had no other social services," she says. If there was a student death, McKee and social workers from the New Orleans Charter School Network managed the crisis debriefing. If there were families who didn't have enough food, the school social workers from the network gathered resources together to find a solution. "'How many kids in your school need uniforms? How many kids in your school need food?' And we collectively would get together and do this until we started to grow. And as more charter schools opened, we added more of those schools to the network." McKee says, "We were able to meet the needs of a lot of students. I am proud of the work we did for our students and families."
McKee and her network not only met immediate student needs but also advocated for infrastructure and funding to support social workers in the charter schools, especially as individual charter schools grew into charter networks within the city. "We were able to get support from stakeholders," McKee says, to keep social workers in the schools so they could serve the students. "I would go to the school board meetings with the Social Work Network and say 'Hey, y'all are about to cut social workers [because of funding], isn't there a PBIS [positive behavioral interventions and supports] grant available? Write our social workers into that!'"
McKee also spent time practicing in children and family services, as a field supervisor for MSW students, as well as in private practice, where she became a clinical supervisor, like Amy Chauvin and her many other mentors. "It was my social work supervisees and former students who told me I needed to go and teach [social work]," McKee says. Her career in social work higher education started out at her alma mater, with work as a field instructor to an adjunct then assistant professor at Southern University at New Orleans. "There was a period of time," she says, "when I was on one side of the wall teaching, and my former professor who had taught me was on the other side of that wall" teaching another class. Now, she is an Associate Professor of social work at Herzing University where she continues to teach future social workers to advocate and speak up for those who experience inequities and injustices.
Along the way, she developed expertise and experience working in diversity, equity, and inclusion programs across a wide range of contexts, including service as an inaugural member of ASWB's Diversity, Equity, Inclusion, and Justice Committee. "We are able to actually look at the policies of ASWB, to review them, and to ensure that we have DEIJ infused in the policies." McKee, along with members of the DEIJ Committee, will be leading a session at the association's 2023 Education Meeting in April. "Social work will be the discipline that leads the charge" for more equitable regulation, she says. "No one entity, no one system, is going to be able to resolve what we have gotten ourselves in more than 100 years [as a field]. … It's got to be a collaborative effort to develop solutions—the future of social work depends on it."
After receiving her doctorate in Behavioral Health from Arizona State University, McKee transitioned into her career as a full-time social work educator. Her strong background in advocacy and policy led to her appointment by Governor John Bel Edwards to the Louisiana Developmental Disabilities Council (LADDC), a state-wide council that examines issues faced by individuals with developmental disabilities and advocates for change at the state level.
Through her work with the LADDC, McKee has championed two bills in particular that have been enacted as law in the state. One is a statute that makes post-secondary education inclusive for people with disabilities, allowing students with developmental disabilities to attend public universities in Louisiana, with the ultimate goal of conferring degrees through the program eventually. Another key accomplishment was advocating for passage of a law requiring schools to have video cameras in special education classrooms. "We got that bill passed into law where all school systems, if a parent requests to have cameras in the special education classroom, the school must put them in place."
Her LADDC work, including time as vice-chair, lets McKee keep a hand in crafting policies that serve people near to her heart. "My son is my greatest teacher," McKee says. Mason, who is now enrolled in community college, was diagnosed with autism spectrum disorder as a young child, and her experience of having a child who is a diverse learner has informed McKee's continued advocacy. "The advocacy for my brothers leading to the advocacy of my son is why I continue to do what I do, right?" McKee says. "I continue to lend a voice to people who need to be heard."
"Whether it's a social worker or an individual with disabilities, whether it's a child or a family, I believe that we can live in a world that's diverse, that's equitable, that's inclusive," McKee says. "And I do believe firmly that we will do that together, collaboratively. We can only accomplish this by standing together."