A fulfilling and gratifying season of life
"My goal as president is to make sure the work of the association is staying true to the 2019–2021 Strategic Framework. … One of the things delegates entrusted to the president is keeping those goals ever present in our work."– Harold Dean, incoming ASWB president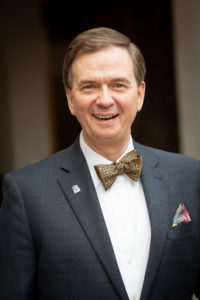 Incoming ASWB president Harold Dean of Arkansas has had a busy year as president-elect getting ready for the passing of the gavel at the conclusion of the 2019 Annual Meeting of the Delegate Assembly in Orlando, Florida. The past year's orientation has included attending international and national conferences on regulation, serving on the ASWB Finance Committee, and participating in task forces and workgroups that support the work of the Board of Directors—as well as serving on the Board as president-elect.
When not busy with president-elect duties, Dean's professional and personal life are equally demanding. Dean is the social work program manager for the Myeloma Center at the University of Arkansas for Medical Sciences, provides case consultation for the Little Rock branch of a national home health agency, and serves as a field instructor and field liaison for the University of Arkansas at Little Rock (UALR) School of Social Work. In addition, he co-facilitates the Little Rock Blood Cancer Support Group, which he founded in 2010. The group, which Dean calls "lively and energetic," has between 25 and 40 participants each month.
Getting ready to lead
"The past year has provided really good exposure to experiences that have prepared me for my two years as ASWB president," Dean says. "I presented at the 2019 FARB Leadership Conference with Mary Jo [Monahan], reporting on ASWB's volunteer strategy. It made me proud of our organization and how we are intentional about the way we utilize our volunteers and look at ways to develop volunteers into leaders."
Dean's own volunteer to leader experience with ASWB is a case in point. Appointed to the Arkansas Social Work Licensing Board in 2013, Dean attended ASWB's New Board Member Training and his first Delegate Assembly in 2014. He remembers Monahan talking about the challenges of bringing about social work mobility at the 2014 Delegate Assembly and says his interest was piqued. He let his interest be known, and in 2016 he was appointed to the Mobility Task Force, serving until the task force's work culminated at the 2017 Annual Meeting with the adoption of the Mobility strategy.
Dean was slated for a director at large seat on the Board of Directors in 2016. He was elected and served a two-year term. Coincidentally, his first term on the Board was as part of the original cohort elected to the newly established 11-member Board of Directors. As a member of the Board, Dean served as liaison to the 2018 Continuing Competence Committee and the 2017–2018 REAL Committee, which planned the 2018 Education Conference "Developing Tools for Social Work Mobility." At the conference, he co-presented two sessions and reprised his HD and The Regulators persona from the 2016 Education Conference on Mobility to rap about mobility implementation.
In 2018, delegates elected him to the four-year Office of President, which includes serving one year as president-elect (2019), two years as president (2020–2021), and one year as past president (2022). "Harold has been a valuable member of the ASWB Board as a director and as president-elect," says Monahan. "I look forward to working with him in his new role on the Board."
Staying true to the strategic framework
"My goal as president is to make sure the work of the association is staying true to the 2019–2021 Strategic Framework that an overwhelming majority of delegates affirmed last year," says Dean. "One of the things delegates entrusted to the president is keeping those goals ever present in our work."
Dean touched on all three of the goals, talking about the boldness of the first goal, to advance social work as a licensed profession and eliminate exemptions. Achieving practice mobility through licensure by endorsement, the second goal, is an outcome that he says ASWB has come too far to let fail, given the progress made since 2014. "As an association, we have to be sensitive and responsive to member boards and social workers in the field who want the ability to have licenses in multiple states to provide services to clients," he says. "If our profession is not meeting these needs and there are too many roadblocks,  then people will seek services from other professionals."
Dean is most excited, he says, about the third goal, ASWB's commitment to regulatory research, because of its value to members to help boards be more effective at the job of regulating the profession. "Finding the sweet spot for supervision hours," he says, "is a prime example of something that could be researched. Disciplinary actions are another area where social work regulatory research could inform rules and regulations."
First things first
As president, one of Dean's first responsibilities will be appointing 2020 committee and task force members after receiving input and approval from the rest of the Board of Directors. He recognizes the importance of these opportunities, not only to the volunteers—who gain experience and leadership skills—but also to ASWB.
"Volunteers are ASWB's most precious commodity," says Dean. He notes that when committees and task forces meet, staff is focused and the meetings are organized for efficiency. The end result, he says, is that volunteers feel a sense of pride about the time and work they have invested. And when volunteers feel good about volunteering their time and feel appreciated, he says, "they are more likely to continue to volunteer because their time and efforts were used in a meaningful way."
Dean talks proudly about another first that will occur under his tenure as president: Staff will move into the new headquarters in January. As a member of the ASWB Board since 2016, Dean has watched the building progress slowly but steadily under COO Dwight Hymans's project leadership. "I am proud of the Board's willingness to support senior leadership as staff sought out ways to make the building green in terms of using natural resources," he says. "The association should be proud of the way senior leadership and the Board approached the process with intentionality to make the building user-friendly and useful to the organization."
Finding balance
Looking back on his social work career, Dean talks about the seasons of life and how the seasons bring balance.
He graduated from Jacksonville State University (Alabama) unsure of what he wanted to do with a sociology degree. At the time, Dean notes, a degree in social work was not offered at the university. A little later, however, Dean was sure that social work was the profession that called him. Acting on that call, he moved to Arkansas, where his brother's family was living, to complete his MSW at the University of Arkansas at Little Rock.
In his early career, areas of clinical practice included mental health, geriatrics, medical social work, and oncology care. For the last 26 years, though, Dean has specialized in oncology social work. He received oncology social work (OSW-C) certification through the Board of Oncology Social Work Certification in 2005.
For the last few years, he says, his career has taken on a different shape. When he was appointed to the Arkansas licensing board, he says, he was a staff social worker in the UAMS Cancer Institute social work department. Four years ago, he was given the opportunity to move into a managerial and clinical role managing the social work department for the Myeloma Center.
Although a staff of only four, the department has become a cohesive and efficient team under Dean's leadership. He finds that being able to use his clinical knowledge in different ways in his work with oncology patients is gratifying, as is being able to continue to hone his managerial skills.
He hopes to bring these skills to his leadership of the ASWB Board. "I believe the ASWB Board is working well together in 2019. My hope is to be able to further the sense of cohesion by using the skills, abilities, and innate personal characteristics I bring to my work at the Myeloma Center," he says.
"I am in a fulfilling and gratifying season of my life," says Dean. "My focus is on the professional opportunities presented in my work at the UAMS Myeloma Center as a licensed clinical social worker and opportunities presented through ASWB to further social work regulation." A soul-feeding passion, performing in theater for the last 20 years, has taken a back seat, "and that's okay," he says. Seasons turn, and theater will be waiting.