A difficult and important discussion
This month's Counsel's Column addresses a difficult and important topic for board members and staff of government-created and government-authorized social work boards.
Dear Social Work Regulatory Board Members and Staff:
Society as a whole, inclusive of the social work regulatory community, is under intense scrutiny and political pressures based upon a host of factors. A changing regulatory climate, demonstrations and protests, justice and injustice, race, gender, sex, elections—not to mention COVID-19—are shining a light on our individual interactions as well as shaping societal views. Highlighting these issues will stimulate much-needed discussions and lead to a better understanding of and sensitivity to differing perspectives.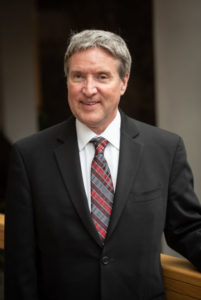 The purpose of this letter is to identify some of these perspectives and, in particular, focus on the perspective (and role) of a regulator. I will collectively refer to governor-appointed board members, elected board members, board staff, investigators, assistant attorneys general, and other government and private-sector attorneys as "regulators." Individually, we cannot easily, if at all, separate our personal emotions and views from our varying roles. We are moms, dads, wives, husbands, brothers, sisters, aunts, uncles, cousins, employers, employees, licensees, friends, teammates, you name it.
While we cannot easily separate these roles, this compartmentalization is at times essential. The different roles we play shape our views of societal issues and the pressures exerted upon us. We digest the issues and have opportunities to express our personal views as we see fit. When we express ourselves, we express ourselves individually: Like, do not like, whisper, yell, write letters, demonstrate, buy products, don't buy products, relocate, contribute, give, take, and more. At times, we may express ourselves more collectively: as a family, a couple, a union, an employer, a club, a community, a political party, and/or a regulatory board.
For purposes of this letter, let's focus on the government regulatory board. To do so, we must first remind ourselves of what we already know but do not always overtly state—why regulatory boards exist. In short, regulatory boards exist to carry out the intent of the legislature. It is as simple as that. The enactment of enabling legislation regulating a profession is premised upon a determination that society will be better protected by limiting practice as defined to persons determined to meet licensure eligibility criteria. Government issues the license, assuring uniform application of licensure criteria and affording legal rights to wannabe practitioners. Overall, the intent of the legislation is to regulate the profession in the interest of public protection.
The legislature creates and delegates authority to the board to fulfill the statutory intent of regulating a profession in the interest of public protection. Regulatory boards would not exist without legislative action. Legislators are elected to act on behalf of their constituents. Regulatory boards are an arm of government (via the executive branch) and act in the interest of society as a whole. Using the expertise of licensees who serve on regulatory boards, rules/regulation are promulgated that add profession-specific details to the statutes. Boards use a collective approach to make decisions, and all board members should be trained on the roles and responsibilities of government entities and on their individual obligations.
Regulatory boards are populated with licensees and "public" members. Other than needed expertise, the distinction between licensees and public members of boards is of no significance. All board members are expected to prepare and meaningfully participate in the regulatory process. Each board member can and should contribute to finding consensus as a group. The group dynamic will constantly change based upon new members, political parties, societal pressures, and staff and other changes. Regardless, the board members must keep sight of the role of the board and their role as board members.
Board members who are licensees may have a tendency to carry their social worker perspectives while engaging in board business. To a degree and as identified earlier, expertise is necessary to add to the efficiencies of social work boards. But individual agendas may not always coincide with the purpose of the board to carry out the intent of the legislature and act on behalf of society as a whole. Many social workers (and other professionals as well) may have a belief that their view is what is best for society, but this individual belief may not reflect the board's view. Board members express their views, rely upon their expertise, ask questions, and contribute to the group dynamic.
Difficulty arises when an individual view consumes a regulator and inhibits an open dialogue from a regulatory and public protection perspective. Some (or many) board decisions are not popular and may not comport with an individual board member's beliefs. The question to consistently ask is whether the issue and views are within the scope and authority of the regulatory board. In fact, that is why government is involved. Government allows for decisions to be made that affect society and are intended to benefit the whole, not promote individual agendas and beliefs. Perhaps a shining example of government's role is during a nationwide crisis, such as the current pandemic. Federal, state, and local governments intervene and create "rules" for the benefit of the whole.
To cite an additional challenge with more long-term past and future implications, what role should regulatory boards play in addressing issues related to race and bias? Or perhaps, what role do boards play in assessing and ensuring diversity in the profession? As emphasized, the first question to ask is whether this issue and intended outcome are within the legislative intent of the practice act. That is, what business is it of the board to pursue (or attempt to fulfill) this outcome? Everyone, especially social workers, would agree that eradicating racism is a laudable goal. Similarly, diversity in a profession is equally laudable. At what point in time is this societal goal an agenda item for a social work board? Is the board authorized to interpret the statutes in a manner that fulfills (or attempts to fulfill) this outcome? Of course, government does play a role in assuring nondiscrimination and can stimulate diversity. But this is accomplished through many antidiscrimination laws and affirmative action legislation, not necessarily through regulation of the professions.
Individual goals and sought-after outcomes are not to be effectuated through government board vehicles. This is where the separation of individual from societal goals becomes challenging. For the readers of this column: Why are you on your regulatory board? When this question is asked of regulators attending ASWB New Board Member Training sessions, the answers are varied. Historically, some answers expressed were "to promote the profession" and "to right the wrongs of society." These varying answers are expected.
It is hoped that board members volunteer their time to protect the public via enforcement of the enabling legislation. It is also hoped that board members understand and function as regulators when undertaking board business. You are regulators who are social workers, not social workers who are regulators. Failure to identify these nuances can lead to legal issues and also will promote a movement to reduce or even eliminate licensees from regulatory boards. This board composition movement is stimulated by the failure of licensees to separate their professional interests from the public protection interests. A reduction or elimination of licensees on regulatory boards will reduce the expertise and curtail the efficiencies of the regulatory process.
In addition to understanding the role of government, the role of social work boards, and their individual roles as board members, regulators must understand the legislative mandates contained in the statutes and have some working knowledge of why these criteria exist. In particular, social work statutes contain multiple criteria for determining licensure eligibility. In addition to administrative criteria (applications and fees) there may be criteria related to education, examination, experience, and personal history/moral character.
Focusing on the education and examination criteria, regulators must hone their knowledge and abilities to articulate the differences between an education and an entry-level competence examination. In the evolved systems of today, thanks to both accreditation processes of educational programs and development of uniform entry-level competence examinations (ASWB), the core criteria of licensure eligibility are assessed based upon uniform criteria. Education programs are accredited following uniform standards. Examination programs are validated through psychometric and statistical analysis to ensure items are developed and perform in a manner that is legally defensible. Further, the examinations are administered in a uniform manner across all examinees and test centers.
Regulators must understand the distinction between education and an entry-level examination. An education program prepares students for a lifelong career based upon years of study in an educational setting with access to professors, literature, educational freedoms, and peer assistance. An entry-level examination is a testing instrument that provides a measurement of knowledge, skills, and abilities that demonstrate minimal competence. High-stakes licensure examinations are premised upon a task analysis, blueprint, item development process, and statistical analysis of item performance following industry standards for legal defensibility. Regulators are encouraged to seek out information from ASWB about the examination program and learn about the validation process. This knowledge instills confidence and a legal basis for government reliance upon this assessment program. Readers are encouraged to read the Chief Executive Officer's column in this newsletter for additional information.
Much was stated in this letter. I hope it is understandable and clarifies some of the fundamental questions related to government regulation of the professions. As I close, I must express a sincere thanks to all regulators for their important role of public protection. Thank you!!! I look forward to seeing you at a future ASWB event.
Dale Atkinson, ASWB legal counsel