20/20 in 2020: Focusing on a year of transition
The year 2020 ushers in a new decade for all of us, and it is sure to bring changes. Will those changes be social, economic, and /or political? We will have to "stay tuned" to see what the future holds.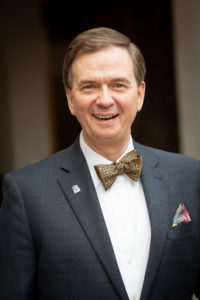 However, one thing we know for certain is that 2020 will be a year of change and transition for ASWB. Several weeks ago, I shared with you that the ASWB Board of Directors had selected Dwight Hymans, ASWB's current COO, as the next CEO of ASWB. Dwight will move into his new role on May 1, 2020, following the retirement of our current CEO, Mary Jo Monahan, on April 30.
During my career I have observed the process of leadership change in several different organizations. Some of these changes have been handled well; others have not. A change in leadership can be challenging for both an agency's employees as well as its clients. This is especially true if the new leader does not have a full understanding of the day-to-day operations and how departments work together to achieve the overall mission. In these types of situations, employees often become dissatisfied in their work, and as a result client or member services can suffer. These are just a few of the reasons the selection process for leadership of any organization must be thoughtful, deliberate, and strategic.
This was certainly the case when the ASWB Board of Directors made the thoughtful, deliberate, and strategic decision to select Dwight as our organization's next CEO. As Dwight moves into the role of CEO, he brings with him an extensive knowledge of the ASWB organization. Dwight has been a valuable employee of ASWB for the last 13 years. He formerly served as manager and then director of board services, where he gained an understanding of regulatory issues as well as the similarities and differences of our member boards. For the last four years, he has served in the role of COO, gaining firsthand knowledge of the day-to-day business operations of the ASWB organization. During his time at ASWB, he has routinely represented the association in meetings throughout the United States and Canada, all the while establishing excellent working relationships with other stakeholder organizations.
Dwight has also been involved with our current strategic framework at every phase of the process from proposal by the Board, to adoption by the delegate assembly, to our current implementation efforts. And of course, anyone who has attended delegate assembly in the last few years knows that Dwight has been at the helm of the construction of our new ASWB headquarters. Because of his dedicated service in various leadership roles, Dwight has gained the trust and respect of our member boards. Given all these factors, the Board of Directors is confident that Dwight's professionalism, prior experience, institutional knowledge of ASWB, and understanding of the broader issues of possible impact to the organization will ensure that our organization remains relevant, financially stable, and committed to excellence.
With a background in health care, I usually associate the number 2020 with the measurement of a person's visual acuity. During the year 2020, it is important that ASWB use one of the skills of visual acuity—focus. 2020 will bring with it not only a transition in ASWB's CEO leadership but also the transition of moving to our new headquarters where all of ASWB's operations will finally be under one roof. This will be an exciting time for our staff, Board of Directors, and member boards. Throughout these changes, our organization must remain true to its mission "to provide support and services to the social work regulatory community to advance safe, competent, and ethical practices to strengthen public protection."
ASWB is a wonderful organization, not only because of its highly skilled staff, but also because of the many wonderful, committed volunteers who support the work of the association. As we continue to move forward in 2020, it is my sincere hope that in whatever capacity you may serve our organization, you will join me in using 20/20 vision to keep a sharp and clear focus on ASWB's commitment to public protection.