How it all began
Mary Jo Monahan, MSW, LCSW
ASWB Chief Executive Officer
In 2013, ASWB launched the Path to Licensure program with two pilot schools of social work: The School of Social Work at Texas State University – San Marcos and Adelphi University School of Social Work in Garden City, New York. This innovative concept was grown out of the understanding that our schools of social work are an integral part of the broader regulatory community. The critical role of regulation is to protect the public by setting standards for social workers to enter practice, issuing licenses, and enforcing practice standards. The Path to Licensure program helps schools integrate teaching about regulation and explain its essential connection to social work values and ethics.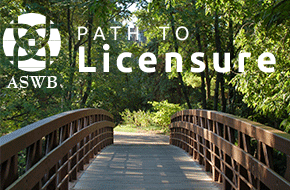 The Path to Licensure program was developed to foster partnerships between accredited schools of social work and ASWB and between the schools and their state regulatory boards. These partnerships unify social workers in the education, regulation, and practice arenas (the three pillars of social work) to help social work students transition successfully to professional practice.
I am delighted that the number of schools and contacts in Path to Licensure continues to grow. The program that started with two pilot schools now includes more than 207 schools and 350 individual contacts at those schools.
---
Be prepared: Follow these 10 steps to licensure
Taking the licensing exam is an important step as graduates enter the social work profession or begin the next phase of their career. As with any test, preparation and knowledge about what to expect are critical to success. The exam candidate handbook provides information about registering for and taking the licensing exam, including a 10-step checklist (see handbook page 4).
---
New exam blueprints in 2018
As of January 2, 2018, the ASWB social work licensing exams in all exam categories reflect new blueprints based on the sixth analysis of social work practice in North America that was conducted in 2015 and 2016. The practice analysis is critical for ensuring that the content of each exam is relevant to current professional practice and reflects the opinions and expertise of a diverse group of stakeholders.
The changes made to the licensing exam blueprints include predominantly minor structural and editorial modifications for comprehensiveness and currency. The most extensive changes were in the Advanced Generalist exam blueprint. The content areas and the percentages derived from the 2015–2016 practice analysis are generally consistent with the previous practice analysis outcomes. Of primary importance was ensuring that the statements are easy for candidates to understand and meaningful for individuals involved in exam development activities.
Use the following links to download the 2018 exam content outlines and the knowledge, skills, and abilities (KSA) statements:
Bachelors exam
Masters exam
Advanced Generalist exam
Clinical exam
---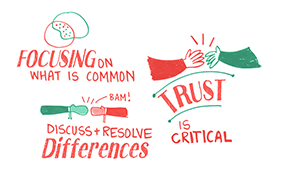 ASWB addresses social work practice mobility
Social work practice mobility refers to the physical and virtual mobility of social workers who elect to practice in multiple jurisdictions. The ASWB Mobility Strategy aspires to depoliticize the licensing process, maintain regulatory expertise, and implement a commonsense approach to addressing social work practice mobility.
The ASWB Mobility Strategy is premised on a concerted effort by social work regulatory boards to harmonize licensure eligibility criteria across jurisdictions so that equivalently licensed social workers can more easily obtain licenses necessary to lawfully practice in other jurisdictions. The Mobility Strategy provides a process and resources through which social work regulatory boards can quickly evaluate and determine eligibility when a licensed social worker seeks equivalent licensure in an additional jurisdiction.
Learn more about Social Work Practice Mobility
---
Sample Path to Licensure activities
There are many ways to include regulation and licensure information in your social work program.
Ideas can be used as homework assignments, group projects, or classroom discussions.  Other examples are for the Ideas to be used by student associations, in student newsletters, or with alumni groups. Regulation and licensure don't need to have a separate curriculum or alter your syllabus significantly. Educators can infuse this information into existing programs.
We will feature some idea-starters in the newsletter. We invite you to share ideas that have worked in your program so that others in the network of Path to Licensure schools can benefit. Here are a few idea starters:
Policy class: Use your state's licensure law as an example of how a policy becomes a law.
Class on social work advocacy: Invite NASW (National Association of Social Workers) chapter leadership and a state licensing board member to discuss how their groups collaborated to bring about social work regulation and licensure in your state.
Practice class: Have students use the ASWB website to find the link to a specific state law or regulation. Ask them to find the scope of practice as defined in the licensing laws in a variety of states and use the information in class to emphasize the importance of knowing the state law in the jurisdiction in which they want to get licensed. (This could be an individual or group activity.)
Field trip: Take students to a licensing board meeting or a disciplinary hearing if allowed. Invite the board to conduct its regular meeting on your school campus. These eye-opening experiences make real for students the ideas of getting licensed and living licensed!