Meenakshi Budhraja, AR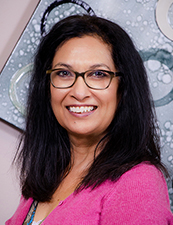 Biography:
Dr. Meenakshi Budhraja is a gastroenterologist in private practice at The Digestive Wellness Clinic in Little Rock, Arkansas. She served as assistant professor of medicine at the University of Nevada in Reno 1986–1988 and functioned as chief of gastroenterology at the VA Hospital in Reno, Nevada. She is adjunct faculty at the Culinary Arts and Hospitality Management Institute. She was appointed by Governor Mike Beebe to the Arkansas Social Work Licensing Board in 2013.
She is certified in plant-based nutrition and teaches culinary students at Pulaski Technical College, where she received the Barbara Peters Adjunct Faculty Award for Teaching Excellence in 2013.
In 2014, Dr. Budhraja collaborated with the faculty at the culinary school and received a grant from the Arkansas Corn and Grain Sorghum Board to develop recipes and help promote the use of grain sorghum (a gluten free, non-GMO ancient grain). She is developing and refining the curriculum for the nutritional education received by the chefs in training. Other modules in development include "Culinary Skills for Gastroenterologists."
Experience, particularly with ASWB:
Dr. Budhraja was appointed in 2013 by Governor Mike Beebe to the Arkansas Social Work Licensing Board.
Candidate statement:
I see the following as being crucial to the future of social work:
 Portability of licensure
Maintaining the integrity of the profession
"Marketing" and awareness of the scope of practice of social workers
Date term ends on board:  Currently serving on Arkansas board
Denise Pratt, TX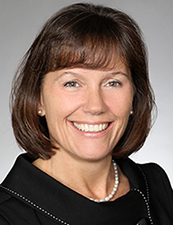 Biography:
I practiced as a family law attorney for almost 20 years and then sat as a Family Court District judge. During those 20+ years, I was trained by Charter Lakeside Drug & Alcohol Rehabilitation, Teen Suicide Hotline of Houston, and Houston Police Department Domestic Violence Unit. I worked with Aid to Victims of Domestic Violence (AVDA), Montgomery County Women's Shelter, and Ft. Bend Women's Shelter, and I volunteered with Houston Volunteer Lawyer's Program to provide support and legal services to low-income families.
I currently sit on the Board of the United Way of the Greater Baytown Area and Chambers County, and Bridge Over Troubled Waters, a nonprofit organization to support domestic abuse victims. I am a member of the local Jr. Forum, which supports causes such as Emma's Hugs, and Habitat for Humanity, among others. I am a Girl Scout leader for troubled 4th and 5th graders, and I have volunteered with the Cerebral Palsy Center, Special Olympics, and Special Rodeo. I have been a foster parent and a sponsor parent to teenage girls from the local Girls/Boys Home and have mentored/tutored children in one of the lowest income school districts in the Houston area.
Experience, particularly with ASWB:
Currently I sit on the Texas Board of Social Worker Examiners and have since 2007. I have been appointed to all of the committees. During that time I have been introduced to ASWB and several of its officers through its involvement at our quarterly meetings as well as its publication. Recently I attended the New Board Member Training sponsored by ASWB in Washington, D.C., where I learned a great deal more about the work ASWB does, and I was pleased to meet many of the people I have heard and read about for the past eight years.
Candidate statement:

I have a great deal of interest in social work. I have continued my education in the social areas of law and have found myself becoming more interested in the social sciences since my retirement several years ago. With the guidance of professionals in this field, I would like to help identify areas of concern and contribute to solutions. I believe there would be benefit to more emphasis on family dynamics, especially in the areas of substance abuse and mental health issues. Another area that I think would impact society greatly would be increased attention to the area of social workers for those in prison.
Date jurisdiction board term ends: 2017