Do you need an auxiliary social work consultant or advisory group?
Many ACE-approved providers don't have an auxiliary social work consultant and may not know why they might need one.
Sole proprietors and small organizations that offer continuing education training are typically more familiar with this ACE requirement, because their continuing education director and their social work consultant often are the same person. When this occurs, ACE requires that the provider designate an advisory group or a second licensed social worker (called the auxiliary social work consultant) to mediate disputes and/or provide support during resolution of complaints and grievances. This can be especially important when the individual serving as both CE director and social work consultant is also a course instructor.
The auxiliary social work consultant can be an employee, a subcontractor, or a volunteer. Providers may instead opt to appoint an advisory group rather than an individual to handle the resolution of complaints and grievances. The group members (two or more) are not required to be licensed social workers, but they should be licensed in a behavioral health field.
The participation of the auxiliary social work consultant or the advisory group is intended to:
Remove the possible perception of bias
Lessen risk for the person serving multiple roles as instructor, social work consultant, and CE director
Provide additional perspective to the resolution of problems
Strengthen decisions
Maximize objectivity related to planning, presenting, monitoring, and evaluating programs, content, complaints, etc.
ACE requires providers to specifically state in their grievance policy that their social work consultant is involved in the resolution of grievances and complaints from social workers. When an auxiliary social work consultant or an advisory group is required, this information should also be included in the provider's grievance policy. It is recommended that in written policy the title of the position(s) and/or the group's name be used, rather than the names of the individuals in these positions. The provider must report to ACE staff whenever an individual in any of these roles changes.
Save this number!
ASWB's Continuing Competence and Continuing Education Services department has staff designated to help YOU! The department has doubled in size since mid-2016. Our professional, knowledgeable, and friendly staff members are ready to help answer questions from existing ACE and New Jersey course approved providers, potential providers, and social workers searching for approved courses.
In the list below, staff members are identified with the programs they support. Save the main phone number, name, and direct extension of the staff member dedicated to help you. Keep these numbers by your phone for quick access! Note: If you are making payment for an application by phone , please contact the specific staff member listed below.
ASWB's main office number: 800.225.6880
NJ CE Course Approval Program
Kacie Beck, Continuing Competence Assistant
800.225.6880, extension 3064
kbeck@aswb.org
ACE: New applications
Donna Edwards, Continuing Education Specialist
800.225.6880, extension 3021
dedwards@aswb.org
ACE: Renewal & add format applications
Karen Crowe, Continuing Competence Assistant
800.225.6880, extension 3051
kcrowe@aswb.org
Ethical advertising: Avoiding confusion
Because different jurisdictions have different regulations, social workers sometimes find it challenging to understand which providers and courses are accepted by their licensing board for CE credit. ACE providers and New Jersey CE course providers have an ethical responsibility to advertise clearly to ensure social workers know whether offerings will work for their needs and through which entity CE credit is being granted (e.g., ACE, New Jersey CAP, a state licensing board, NASW, etc.).
Following are the two most common misconceptions among social workers—and even some ACE providers. These can fuel other misconceptions and have led to social workers completing courses that were not accepted by their regulatory boards.
Misconception: ACE is accepted by all 50 states.
Correction: ASWB's ACE approval program is accepted by 50 jurisdictions as of September 2017. Among these are some Canadian provinces, the District of Columbia, and the U.S. Virgin Islands; not every U.S. state accepts ACE.  A map of the jurisdictions that accept the ACE program is on ASWB's website.
Misconception: All courses offered by ACE providers that are applicable to social work offer continuing education credit through ACE.
Correction: ACE providers may offer courses applicable to social work using continuing education approvals from other organizations, such as the National Association of Social Workers (NASW) or the individual state. The provider may choose not to—or may be unable to—offer ACE credit for every relevant course. ACE providers are required to make the approval status of each course very clear in promotional materials.
Here is an actual example of how obscure advertising can cause confusion.
Jane, a social worker licensed and residing in Georgia, saw an advertisement for a course being offered in her town by a well-known ACE-approved provider. Jane knew that her state board accepts courses offered by ACE providers. The ACE provider's promotional material stated: "Social workers will earn CE credit for this course." Based on this description, Jane assumed that the provider was offering ACE credit for the course—but she wanted to be sure.
Jane first called the ACE provider and spoke with customer service. Although customer service told her that she could earn credit for the course because the provider is an ACE-approved provider, Jane still had questions—the promotional material did not specify ACE credit. So next she called ASWB to confirm what she had been told.
When talking with Jane, ASWB staff noted that the promotional material lacked the continuing education approval statements that ACE requires providers include on materials advertising courses they offer through their ASWB ACE provider approval.
An ACE staff member contacted the provider and talked to the provider's CE director. From this conversation, ACE staff discovered that the social work continuing education credit for the course Jane was interested in was not being offered through the provider's ACE approval; it was being offered through approval by the Florida social work board. Moreover, staff learned that the provider was specifically choosing not to offer ACE credit for this course.
Including the CE approving entity in the promotional material is relevant to ethical advertising because it provides full disclosure to the learner, helping to ensure that the individual can make an informed choice. If the source of the course approval had been clearly indicated, Jane would have been able to verify with her board if courses approved by the Florida board were accepted for CE credit in Georgia.
The outcome: Jane chose not to participate in the course because of the lack of clarity around the continuing education approval.
Ethical advertising means that where the CE approval is coming from must be clear to social workers and to the provider's staff. In the example scenario, the provider should have advertised the CE credit for the course in the following manner OR in any other manner required by the Florida board:
"Social workers will earn CE credit for this course through the Florida Board of Clinical Social Work, Marriage & Family Therapy and Mental Health Counseling."
If this statement had been included, it would have been clear that this course was not being offered with the provider's ACE approval. Jane would have then been able to make a decision about the course immediately and saved the time she spent making multiple phone calls to get the correct information.
For ACE providers, maintaining ethical advertising practices is simple when you follow these guidelines: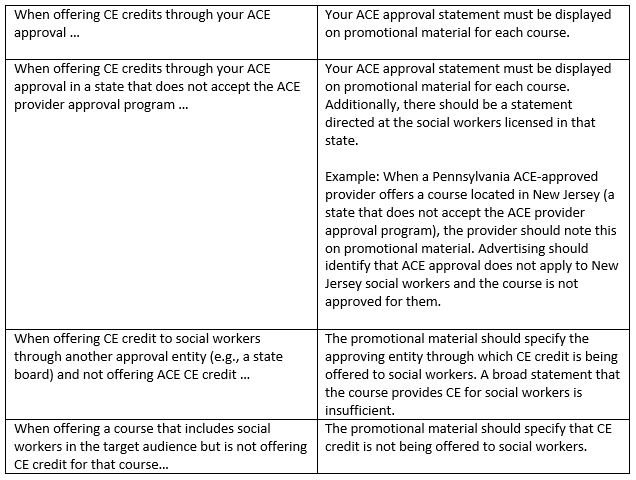 When it comes to determining which courses and providers will meet their needs for CE credit, social workers must navigate a complex regulatory system. Continuing education providers can make it much easier by following the best practices outlined here.
If you have questions, please email an ACE staff member at ace@aswb.org.
Making online training accessible
Have you just started developing online trainings? Or are you trying to make sure that the courses you already have are accessible to all participants? Most CE providers want to make their courses accessible and, depending on their business type, are legally bound by the Americans with Disabilities Act (ADA) to meet certain accessibility standards. Not only is accessibility best practice for continuing education providers, ASWB also requires all ACE-approved providers to comply with ADA, whether they offer online or in-person trainings.
We've assembled some resources that might help CE providers learn more about strategies for online accessibility.
Tips for Designing ADA-compliant Online Courses, while geared toward postsecondary institutions, offers useful tips to all CE providers, even those that aren't in higher education institutions, about strategies for creating accessible online courses on topics including hyperlinks, text design, images, audio, video, and documents.
ADA Compliance for Online Course Design, also targeted at colleges and universities but useful to all CE providers, discusses legal issues along with practices that enhance accessibility.
Is Your Website ADA Compliant? addresses ADA requirements for small businesses.
If you are unsure if your website or courses are ADA compliant, your organization should consult a lawyer who specializes in ADA law for further assistance.