Adapted from the CEO's leadership report at the Annual Meeting of the Delegate Assembly, November 2019.
We have turned 40! I have two quotes about turning 40. One is from a distant relative, Ben Franklin. His observations are: "At 20 years of age, the will reigns; at 30, the wit; at 40, the judgment." So, hopefully, we have become a mature organization that makes good judgment calls. And the second quote is from another distant relative, Oprah. (I used to live in Chicago, so that's how we're connected.) She talked about five things that you must know how to do before you turn 40: "how to delegate, how to comfort someone, how to spot a good opportunity, and how to make conversation." The fifth one had to do with S-E-X. So, I left that one out.
I am here to give you our association report for 2019. It was another big, big leadership year for ASWB. And if you recall last year, I chose "Daring Leadership" as the theme for 2019. That theme was based on the leadership writings of Brené Brown, a social worker, in her insightful book Dare to Lead. She told us that daring to lead is "doing the brave work, participating fully in the tough conversations"—and we've had a bunch this year—and "showing up wholeheartedly." She states that not only do we need braver leaders, but we also need to create more courageous cultures in our organizations, cultures in which "brave work, the tough conversations, and whole hearts are the expectation," cultures in which people feel safe, seen, heard, and respected, where daring leaders must care for and be connected to the people they lead.
She defines a leader as anyone who takes responsibility for finding the potential in people and process and who has the courage to develop that potential. I agree that leaders must demonstrate the courage to show up at the conversation even when you can't control the outcome and to find the strength to leave what's mean-spirited on the ground—even if others do not—and I think that describes "regulation land," "social work land," but also "North America land." Basically, effective leaders are guided by their values, engage in strategic and generative conversations, find solutions, and lead their interactions to a better place.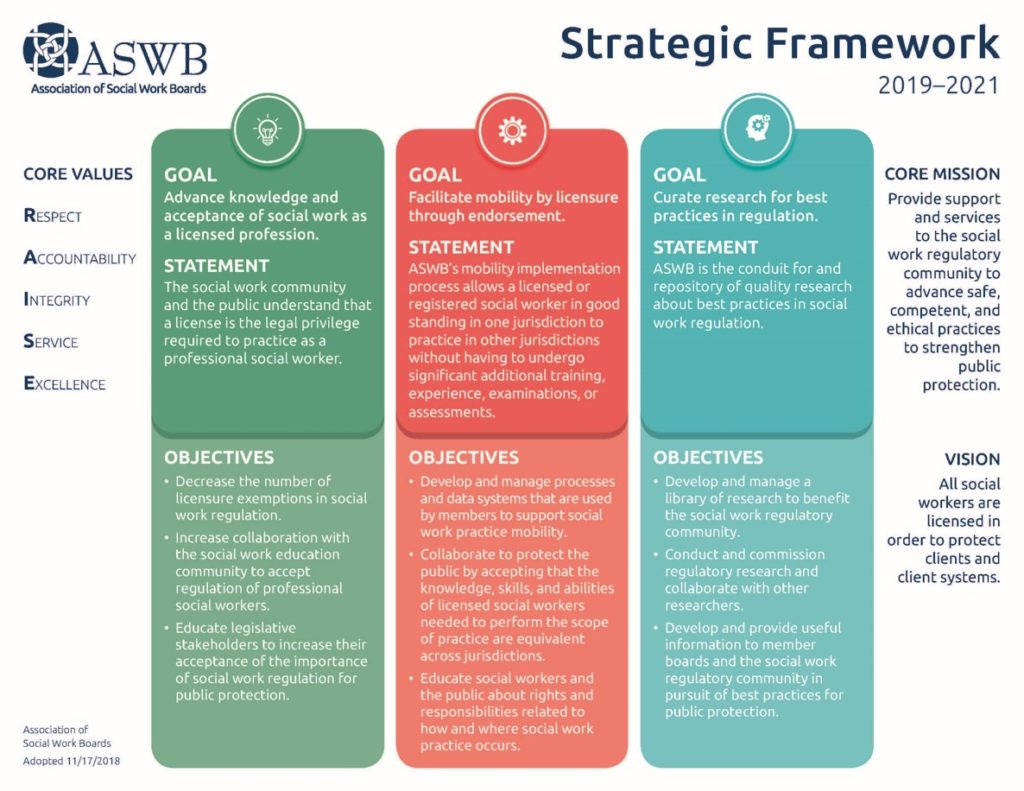 Last year, the 2018 delegate assembly adopted a very bold and daring strategic framework. The ASWB Board and staff were challenged by our facilitator, Paul Meyer, to go bold a few times. We would come up with wonderful vision statements, and he'd say, "That's a mission statement. That's not a vision." So, he encouraged us to "go bold" and we did. The ASWB Board brought you a game-changing plan for the future that built on the considerable strengths we have developed over the years. It also challenged us to either develop new areas of expertise or hire staff with those specific skills and to collaborate in more creative ways with new stakeholders out there. And the delegate assembly embraced the framework quite enthusiastically.
Like last year, throughout today and tomorrow you will hear reports on ASWB's activities and accomplishments in 2019. Today you will hear from treasurer Mel Harrington and COO Dwight Hymans a very positive finance report discussing the professionalism of our finance staff, the continuous stewardship of ASWB resources, and the fiduciary responsibilities of our ASWB Board members. Lavina Harless and Tanya Carpenter will give a very positive exam report with comments about the continued growth of our signature exam program, which remains solid. Tomorrow you're going to hear from Jennifer Henkel a very positive strategic framework report, including how we are implementing this bold forward-thinking initiative and what has been accomplished in our first year. And finally, Dwight will provide a very positive building report that will knock your socks off with the beautiful pictures of inside and outside our corporate headquarters, our new corporate headquarters, as well as the coolest drone flyover you've ever seen.
My goal today with you is: I want to talk about my sense of changes and shifts in the way we are doing business and the results we are achieving as a result of the bold framework. I'm sensing three major shifts that are occurring this year and hopefully will continue into the future.
First, I'm sensing that ASWB is engaging in different conversations or we're engaging in the same conversations but in a different way. It seems that we're staying at the table longer and long enough to get to understanding dialogue and eventually solutions.
Second, I am sensing new opportunities for social work regulation. And this is flowing from our bold strategic framework and also from the changing and shifting conversations that we're engaged in.
Third, I'm not just sensing but I've experienced the excellent operational and governance partnership between the ASWB staff leadership and the ASWB Board of Directors leadership. This close partnership is solidifying the "stretchy" and generative thinking that has become the standard for our work together to ensure the sustainability and future growth of our beloved association, ASWB. Because the 2019–2021 Strategic Framework is so bold, I called on daring leadership from all staff, Board members, and volunteers as we began this first implementation year.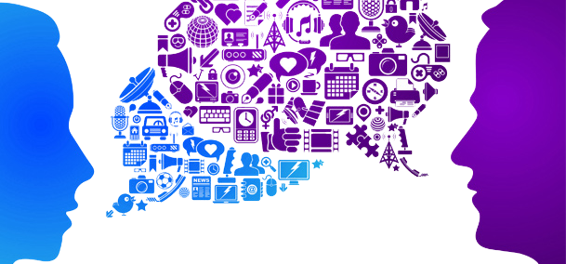 The changing conversations
I'm happy to report on ASWB conversations with our stakeholders. As one of the three pillars of social work—the pillar of regulation—ASWB is changing the conversations with social work educators and social work practitioners [the other pillars of the profession]. We are also participating in regulatory conversations at a more informed and substantial level with other professions and with legislators. We are incorporating our focus and what we've worked on for the past two years in telling the social work regulation story in our own words and making it understandable. Throughout 2019, social work regulation has continued to experience challenges to the legitimacy of professional regulation and its mission of public protection. The viewpoint of the deregulation proponents is that professional regulation is a job-killing process—the enemy of free trade—and interferes with access to services provided by unlicensed individuals.
We're dealing with that. As a member of FARB, the Federation of Associations of Regulatory Boards, we were urged to take this political scrutiny as an opportunity to shine as regulators. We were challenged to embrace commonsense regulatory reform and to strive to reduce unnecessary barriers to practice professionally. And I think we've made a lot of inroads this past year. But we understand that if you remove government regulation, which is the lawful protection of consumers—and what we do as regulators—from the equation, what's left? Self-regulation is left, but we know it's aspirational. There's the code of ethics; but it's not enough to protect the public and leaves our social work clients often with the only recourse of buyer beware, which is also not enough.
So here are some examples of ASWB's 2019 conversations and activities in regulatory land. The legislative work of the PLC, the Professional Licensing Coalition, continues to provide protection from antitrust charges for folks who serve on regulatory licensing boards. The coalition has been working for two years, and they have finally secured sponsors for legislation that hopefully will be introduced in both the Senate and the House this year when they get back to business. ASWB continues to be a leader in the FARB organization, contributing to the conversation on smart, relevant, and right-touch regulation. We're doing all of those things, and we are learning together and teaching one another about what works and what makes sense for social work regulation.
Over the past four years we also have been evolving trustworthy partnerships with the Healthcare Regulatory CEOs, originally composed of nurses, doctors, and pharmacists. Four years ago, they opened up the membership and their conversations to social work, psychology, physical therapy, and occupational therapy. And we have been meeting twice a year since then. It started out with just the CEOs getting together. Over the past two years, we have expanded to include the regulatory researchers within our organizations. And Jennifer and Dan Sheehan have both attended meetings with me. At our last meeting, we decided that our IT people needed to get together to share information, to share projects together. And so, in 2020, we'll be involving Dan and some of his IT guys with the other regulators. And I'm very happy to announce that the first meeting of the group in 2020 will be held at Culpeper at the new ASWB headquarters.
Now I'd like to share a few examples of the changed external conversations and responses in social work land. Last December at the CSWE Roundtable, President Tim Brown and President-elect Harold Dean and I presented our bold strategic framework to the representatives of the various social work education and practitioner organizations. A lot of social work educators were there. We made a proud and bold presentation that was initially cautiously received, particularly when we talked about "all social workers get licensed and live licensed" because a lot of social work educators still are not licensed or don't see that they need to be. But due to our measured participation throughout the day, by the end of the meeting our colleagues were warming up to this concept of "all social workers get licensed and live licensed." And I think that reception has continued throughout 2019.
After a few NASW members discovered that nurses have a compact for mobility, they decided to organize to get a compact for social work mobility. This was being discussed on an NASW community forum. When we saw that happening, Jennifer contacted this group of social workers and introduced ASWB to them. They weren't aware of ASWB, and she offered to tell them about our plan for licensure by endorsement. The conversation didn't go very far. They didn't call Jennifer back. So, I reached out to my colleague at NASW, CEO Angelo McClain, to nip this in the bud because we already have a plan for social work practice mobility. I was very pleased with his response. It was an immediate response: He invited me to participate with him in a licensure by endorsement podcast [on the NASW podcast "Social Work Talks."]
We went into Washington, D.C., and he interviewed me. Actually, it turned out very well. It's about a half-hour podcast, and you can tune into it at the NASW website. At the end of the interview, he put NASW support behind the ASWB licensure by endorsement plan. We were very pleased with that. Dwight also went to the last NASW board meeting to present on licensure by endorsement and answer questions. Although Jennifer and I could not be there in person, we also participated by phone. We feel that that's a very nice partnership around mobility with NASW.
Any macro social workers out there? Okay. I'm very pleased to report that the battle is over, and we can both declare victory. After five years of contentious discussions with the macro social work group, we have reached consensus on some very important issues. They are not advocating for a separate macro license anymore. They understand that the LBSW and the LMSW categories of licensure, as well as the Advanced Generalist category in some jurisdictions, capture the macro scope of practice. They will be encouraging their students at the BSW level to get licensed in the LBSW category, and the MSW to get licensed in the LMSW category immediately after school and after they graduate. And that was very, very positive. They also have fallen in love with our ASWB Model Social Work Practice Act and now understand what a scope of practice is, versus a definition of social work that is used in the classroom. And that has been very gratifying. Tim has been very helpful in meeting with this group. We just met with them at CSWE. We had a half-day meeting with them where I declared the battle over and my counterpart said, "and we're not calling them oppressors anymore," so it's victory.
Last month at the CSWE conference, ASWB participated in a very spirited session on gatekeeping. We focused on coming to the realization that all three pillars are responsible for gatekeeping, not just regulation. And although gatekeeping is not a new topic in North America, there was a realization that it's not about the students; it's about the clients. If all three pillars—social work education, practice, and regulation—adopt a shared focus on client service and client protection as each pillar's ultimate responsibility, gatekeeping then takes on a new meaning for all three pillars. We could collaborate and work together. Student success and the advancement of the livelihood of social workers are very important for the other two pillars and critical to each pillar's respective mission. But what binds all three pillars is client service and, ultimately, client protection. So, we hope to keep that conversation going. I think it's a good one. I think it's progress for all of us.
Now here are some examples of changed internal conversations with our members.
Our Ohio composite board convened a strategic conversation with educators and practitioners of all of their licensed professions and invited Jan Fitts to discuss ASWB's Path to Licensure program as a template that the other disciplines might use to make a bridge between social work education, mental health counseling education, and the regulators. It was a very successful meeting and, hopefully, a model that other composite boards might think about.
The great state of Texas survived a sunset review that resulted in a behavioral health consolidated board where social work maintains its independence.
We have many examples of successful legislation over the past year telling the story of positive regulation. California, Arizona, Pennsylvania, Arkansas, and Wyoming all introduced endorsement language successfully.
Connecticut attained title protection, and Colorado is involved in a sunset review and looking at ways to eliminate exemptions for child and family welfare workers in their state, which is very positive.
Dwight and Jennifer continued to attend various meetings with our Canadian members to better understand their specific challenges and successes and are really focusing on the similarities. For instance, the Canadian Free Trade Agreement is actually licensing by endorsement. They are also struggling as the states are with exemptions, especially in child welfare.
Jennifer and I, with the able assistance of the members of the ASWB Board of Directors, designed and produced our first interactive online training. It was the new board chair training. How many attended that with us? Wasn't it a blast? There was so much fun. It was three 1-hour sessions that you can watch online. We hope to package it in a way that would make it usable for you in your own jurisdictions. More on that in the next year.
And finally, we're planning with Tobi Zavala, the executive director from Arizona, and Kim Madsen, executive officer from California, to host a Composite Board Summit on the Wednesday before the education meeting in Chicago in April 2020. We have 16 composite boards within our ASWB family, and we really want to listen to find out how we can serve your particular needs because we know that they're a little bit different than independent social work boards. So here are some new opportunities that have come to ASWB this year.

New opportunities for social work regulation
I'm very excited that both CSWE and NASW are including regulation from the beginning in many of the national meetings that they are going to with federal agencies such as the Department of Labor and SAMHSA rather than after the fact. They are seeing the value in letting ASWB speak for licensing and regulation at the table. So, we're being invited to the table more often.
CSWE included ASWB in a federal SAMHSA grant proposal regarding the educational preparation of students for treating substance use disorders. The other part of the grant was to have adequate questions on the licensure exam about substance use disorders, which is why they included us. That was a great combination, and CSWE got the grant.
The ACE program has expanded through a collaboration with the Joint Accreditation Interprofessional Continuing Education group. ASWB signed a contract to become an associate member. Interprofessional continuing education, or IPCE, is designed to address the professional practice gaps of the health care teams. The nurses and the docs, and then the pharmacists, and now social workers have been recognized and added to meet the CE needs of the health care team. Our ACE providers can apply to become jointly accredited to offer their CE services to members of health care teams.
On the international level, ASWB hosted an important meeting of the International Federation of Social Work Regulators, IFSWR, in Vancouver prior to the International CLEAR Congress in June, and many, many of you were there as well. IFSWR has been an informal group of social work regulators from the two Irelands, England, Scotland, Wales, New Zealand, and Australia. Singapore and South Korea have joined us in the past two years. And many of these folks served on our Technology Task Force. The group meets to share regulatory information, research, and best practices either during the CLEAR meeting or the IFSW meeting in alternating years. In Vancouver, we made a very stretchy decision to become a more formal federation, developing a longer-term structure for continuity into the future. And I'm excited to lead this initiative and have great hopes for our success.
And in the little village of Culpeper, Virginia, where the ASWB headquarters is being "loved into existence," ASWB is partnering with our community in new ways through the outreach efforts of our Green Team and the Philanthropy Team. Each year, ASWB supports a few local charities through significant donations. For example, we have supported Pamper Me Pink, a breast cancer program, for the past six years with a cumulative donation right now totaling $10,500. The program provides free mammograms at local hospitals. Recently the Green Team sponsored Green Challenge Week, which focused on activities that sustain the environment. The team provided the Culpeper Senior Center with bags of necessities for their clients and a $1,000 check for operations. A group of ASWB staff played bingo at the center on Friday of that week, and Dwight called out the numbers. It was a great hit.
Operational and governance partnership
I want to thank the volunteer leadership of the ASWB Board. I know Tim will speak from his perspective as board president for the past two years. But I want to add my thoughts from my perspective as CEO. Seven years ago, I brought the governance as leadership model to the ASWB Board as a way of forging strong partnerships between staff leadership and the volunteer elected leaders of the Board of Directors. Governance as leadership has two main directives. The first is that high-performance management of a nonprofit involves a working partnership between operations and governance, with each understanding their separate roles, staying in their own lanes, and respectfully interacting for the good of the organization. The second directive is equally challenging: understanding and adopting the right mode of conversation for the issues that are being discussed. The three types of conversation are fiduciary, or dealing with the facts; strategic, that is, anticipating environmental challenges and positioning the organization for success; and the third level, generative—which my favorite level—or, imagining the future and framing the right questions in the present so that we can get to that anticipated future. Over the years, ASWB Board presidents have embraced this model. Pat Heard, the first president I served with; Dorinda Noble, who is not here with us; and Jenise Comer, who is here with us, each worked with me and their Board members to practice the directives and try on new ways of problem-solving.
Our cumulative knowledge, skills, and abilities have coalesced in these past few years into what I stated earlier is now standard operating procedure for ASWB Board members. Governance as leadership is standard practice here at ASWB. And I believe that we were able to take on the strategic framework because of the firm foundation of both strategic and generative thinking. I also applaud our Board in its intentional approach to leadership development and involvement of our members—all of which makes our organization outperform the others. Tim, it's been a pleasure.
2020 theme: Persistence
And that brings me to the theme for 2020: Persistence. We've gotten here, but we still have to persist to continue to go forward and to grow. And yes, this is the interactive part of my report. So, go to your stations.
I've asked a few people to come and tell a story of their persistence for regulation over the past year. Here are some synonyms and inspirational words of persistence as you are coming to the microphones to tell your stories. Some of the synonyms are "willpower," "resolve," "fortitude," "grit," "strength of mind," "strength of character," "perseverance." Persistence is the ability to keep trying and to keep moving to a goal no matter what. People with persistence are those who get up and keep going, who learn from what went wrong and adjust course, and who believe in themselves.
The first example of persistence is mine. It's not necessarily a regulatory example, but it was a personal best this year. I received the first place trophy for my age group in the Wicked Bottom 5K race. The other women in the age group were all younger, so it was definitely a sweet victory!
The next story is from staff member Bobbie Hartman.
Bobbie: Well, we had a meeting this year looking at the strategic framework and the websites. Those of you who have heard from me know that part of my job is the care and feeding of the websites. And we realized that our sites aren't adequate to deliver on the requirements of the strategic framework. So, I reached out to a consultant who did some interviews and prepared a report that said our websites were disconnected, disjointed, and disorganized. And I wanted to crawl under my desk. But I realized that meant that the problem is defined. And once a problem is defined, you can start chipping away at it. You can make inroads; you can develop and plan; and persistence beats resistance.
Next, Kim Madsen from the great state of California!
Kim: If you know my cultural background, I'm Irish; I'm also Dutch. That makes me very hardheaded. So, what I boil that down to is doing the right thing for the right reasons. Getting portability in California was absolutely the right thing to do for all the professions. I was not going to be swayed off that dime. It became "let me show you a different perspective." Let me provide the opportunity for you. Being able to carry that ball with the help of all of our stakeholders and the support of my board and getting that ball across the finish line without any objections was amazing. And you know, we'll see what 2020 brings.
Thank you, Kim! Staff member Jennifer Henkel.
Jennifer: I have three words: Licensure. By. Endorsement.
In our lifetime! Yes. Guylaine Ouimette of Québec.
Guylaine: First, I want to thank you for your great speech on leadership. It's inspiring. I would say persistence in my case is the key in Québec. Our profession of social work is really changing every day. There is someone either from the government or from the media who refers to our work or to our way of doing things for kids and families in a context that is very, very difficult right now. Our profession has evolved over the years. Being the official regulatory body, our order has to not only follow but be ahead of the mainstream to fulfill our mandate and mission. As president, I have to make sure that our board, our committees, and our staff move forward all in the same direction.
…Over the past four years, mainly since my election, we have gone from a CEO who was in charge for 15 years to a CEO who left after only two years because our challenges in the transformation we are going through is just major. But our goal was clear, and we were determined to get the best person for the job. Even though it was a lot of work and that meanwhile we faced some difficulty, we had the necessary persistence to continue looking for our star. Our efforts finally paid off. We found her; she has been working with us since August 5, and I expect her to be with us for a very, very long time. So persistent determination has paid off. Thank you.
And batting wrap-up: COO Dwight Hymans.
Dwight: Well, my story, as you can probably imagine, is about the building. But it's kind of a micro-backstory about the building. As you know, we've been at this a long time. When we first started talking with our contractor, I would be talking about all of these ideas for sustainability, of being green. Our contractor, who hadn't really built in that way before, would say, "Are you sure you want to do that? That could slow things down. That can be more expensive; materials are harder to get," et cetera. But because of the values that we set at the beginning of our building project in discussion with the Board and Mary Jo, we persisted with him. And I'm glad to report that last year, in 2018, when we were doing site development, on the sign that he put up right along the road at our current building site, he had changed the color of his logo, which was traditionally gray (because the company is Graystone Homes) with a maroon trim. Guess what color it was? Green. We persisted. He even calls himself a green builder now. So that's persistence.
So that's our theme for going into 2020. You can read this quote that Jill Armm found for us: "It's tenacity, wrapped in courage, with just a little sprinkling of stubbornness on top. It means getting up and going again. Every. Single. Time."
Thank you for your kind attention and thank you for allowing me to continue to serve you as your CEO.