ASWB is pleased to announce that beginning in January 2014 two new Item Development Consultants will be adding their expertise to that of current consultants David Aiken (Clinical and Advanced Generalist), Ann McAllister (Bachelors and Advanced Generalist), and Nancy Sidell (Masters and Advanced Generalist).
The two new item development consultants will serve as coaches and subject matter experts for item writers developing questions for the Masters and Clinical social work licensing exams. Bynia Reed-Clark, MSW, of Elkridge, Maryland, will serve as a consultant for the Clinical examination. Monica Roth Day, MSW, Ed.D., of Duluth, Minnesota, will serve as a consultant for the Masters examination. A brief introduction about each of them appears below.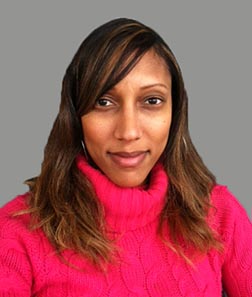 Bynia Reed-Clark (Clinical examination consultant)
Bynia Reed-Clark has been in private practice in Maryland since 2009. She specializes in child therapy but also works with adolescents and adults. Before entering private practice, she worked as a child therapist at a group practice and at a center specializing in the treatment of children under the age of six. Her past experience includes working in early intervention mental health, therapeutic foster care, and play therapy. She also was a member of a forensic Attachment Study team, and her areas of expertise include attachment and bonding. Bynia received her bachelor's degree in psychology from Princeton University and her MSW from the University of Southern California.
Bynia became an item writer for ASWB in 2007, was a member of the Clinical exam committee, and served as Clinical exam co-chair in 2009 and 2010. After completing her service on the committee, Bynia returned to writing items. She recalls that she went through the first five stages of the Family Life Cycle during her tenure with ASWB: her first year, she got engaged; her second year, she got married; she had her son Cameron during her third year; and two years later had her daughter, Skylar, who turned nine months old in November 2013. She also has a stepson, David Jr., who is a teenager. She loves the outdoors and taking her children to farmers markets and "pick your own" farms. Skiing and snow tubing with her family are winter sport activities that she also enjoys.
"I am flattered to be asked to serve as a consultant," Bynia said. "This is a wonderful group to be a part of. I learned a lot and saw different aspects of practice, from all walks of life and from different sectors. It's very rewarding."
Monica Roth Day (Masters examination consultant)
Monica Roth Day, MSW, Ed.D., is chair of the Human Behavior, Justice and Diversity Department at University of Wisconsin, Superior, and coordinator of the social work program. An associate professor of social work, she has a knack for challenging her students using community organizing and group facilitation techniques to help them grow and progress in their professional development.
Monica has more than 15 years of social work practice. She worked as an organizer with Minnesota Public Interest Research Group, volunteer coordinator and community educator at the Program to Aid Victims of Sexual Assault and assistant director at the Center for American Indian and Minority Health. She maintains her license because she believes it is important to model for her students, as well as for professional integrity. She has taught as both an adjunct and full-time professor at public, private, tribal, and two-year colleges. Monica received her bachelor's in psychology with a minor in counseling from the University of Iowa; her MSW from the University of Minnesota, Duluth; and her Ed.D. from University of Minnesota.
Monica's hobbies include knitting, hiking, reading, and travel. She was able to combine two of those interests in the summer of 2013 when she was invited to teach a seminar in Edinburgh, Scotland, using the Harry Potter books to help students explore children's development and social justice issues.
Monica became an item writer for ASWB in 2007, joined the Masters examination committee in 2010, and served as Masters exam co-chair in 2013. Of her upcoming role as item development consultant, she says: "I am excited to work with ASWB in a different context. I'll be supporting the committee work and I'm excited to work with individuals, to support their efforts to write items. I don't consider myself an expert; I'm a life-long learner. As a consultant, I'll be a coach and a learner."
ASWB appreciates the hard work of our exam program volunteers, consultants, and contract item writers. Their dedication and commitment to public protection ensure the success of the program. The work that they do in collaboration with one another allows the diversity of your experience to infuse the process and preserves the validity and reliability of the licensing exams. In 2013, in addition to the item development consultants, there were 17 volunteers who served on the Examination Committee; 17 emeritus members of the Exam Committee who served as form reviewers; and 79 item writers under contract to develop questions for the examinations. We thank them all for your service.
We also wish to announce the retirements of item development consultants Dan Wheelan (Masters and Advanced Generalist) and Glenda McNeill (Clinical and Advanced Generalist) and thank them for their many years of service to ASWB.
Looking forward to 2014 and adding Bynia and Monica as consultants, ASWB also would like to announce the co-chair appointments for 2014. Stacey Owens of Baltimore, Maryland, will be returning as co-chair of the Bachelors examination committee. Brent Meyer of Macon, Georgia, has been appointed co-chair of the Masters examination committee and Greg Winkler of Janesville, Wisconsin, has been appointed co-chair of the Clinical examination committee. Please join us in congratulating them as well!